Buddhists want 66-foot-high temple south of Fresno
By Russell Clemings, The Fresno Bee, Sept 18, 2008
Group asks to have zoning rules waived
Fresno, California (USA) -- Eight months ago, after negotiating with the Thai government, a Fresno Buddhist congregation brought back a sacred Buddha relic from southeast Asia.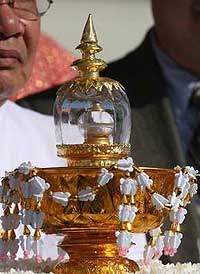 << DIANA BALDRICA / FRESNO BEE FILE
The congregation that obtained a sacred Buddha relic wants to place it atop a 66-foot-high temple.
Now, the same group wants Fresno County to waive zoning rules so it can build an oversized temple and store the relic in the top of its spire.
Wat Brahmacariyakaram is asking to erect its 66-foot-high "sacred temple" on Orange Avenue between Malaga and American avenues, just south of Fresno.
Thursday, Mike Sayaseng, the congregation's secretary, told the Fresno County Planning Commission that the temple is designed to be "authentic" and modeled after those in southeast Asian countries.
"I am one of many southeast Asian refugees who settled in the Central Valley after the fall of Laos, Cambodia and Vietnam in 1975," Sayaseng said. "After a quarter of a century has gone by, and after having saved some money, members of our congregation all express a strong desire to see the most beautiful and authentic sacred temple."
Having a sacred temple will permit young Buddhist men to be ordained as monks without going to Los Angeles or the San Francisco Bay Area, the temple says. It will also give the congregation a place for its relic, purported to be a remnant of the Buddha's breastbone.
"It will be permanently enshrined in the spire on top of the roof of our proposed 66-foot-high sacred temple," Sayaseng said. "The sheer height of this sacred temple will discourage anyone from stealing our most revered Buddha's relic."
But county zoning regulations limit structures in agricultural areas like the temple site to 35 feet. Exceptions can be made under narrow conditions, but planner Jonathan Avedian told the commission the temple didn't qualify.
"Although the applicant indicated cultural and religious reasons for the variance, staff was unable to identify extraordinary circumstances or substantial property-right issues" as required, Avedian said.
Avedian's staff report noted at least six other height variances have been granted for religious buildings in the county over the past decade. One was also granted for a 57-foot Buddhist temple near Clinton and Valentine avenues in 1989. But the report said "each application is evaluated on its own merits."
After some discussion, commissioners seemed ready to approve a variance, but for a structure 55 to 57 feet tall, not 66 feet. They unanimously voted to delay their decision until an unspecified later date to give the temple a chance to revise its plans.