A bridge between worlds, 'a tower close to heaven'
By Julie Johnson, RecordNet.com, September 21, 2008
Treap Thap's grief over his parents' deaths is evident on his forearm, where their names and the dates of their deaths are etched in indelible ink
Stockton, CA (USA) -- Sometimes it takes losing something to know what you had. Thap, 32, never paid attention to the beliefs that brought his parents to Stockton's Wat Dhammararam Buddhist Temple to pray.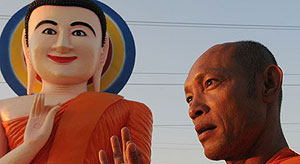 << With help from the Buddhist community, monk and artist Kong Tith brought the statues at Wat Dhammararam Buddhist Temple to life in southeast Stockton. Through the construction of the statues, Treap Thap reconnected with a world that was so much a part of his parents lives.
But in early 2007, he was drawn there as well. His mother and father had died years earlier and it was time to plan a memorial service for them, but he knew little about their faith. And he didn't speak Khmer, his parents' language, very well either.
The monks and elders who took him in are what have brought him back to the temple nearly every day since.
"Tradition is all I have, all we have," Thap said. "It was too bad I never really got interested when they were alive."
Wat Dhammararam, with 200 members and thousands of visitors annually, is among the largest Buddhist temples serving Cambodians in California. Temple leaders envision it as a Northern California hub of Cambodian culture. And they're hoping their efforts will inspire younger generations to hold on to their heritage.
"People believe in the temple because they see it growing every year," said Poeun Hib, 53, a longtime member who manages the temple grounds.
But that's mainly the older generations because, Hib said, many Cambodian American youth don't speak Khmer.
"They don't know how to pray," he said.
Like many of his peers, Thap immigrated to the United States with his family as a toddler. He watched Looney Tunes and went to his Franklin High School prom. He goes by "T" instead of Treap.
So when he showed up at the temple last year, he didn't know how to greet a Buddhist monk, let alone plan a memorial.
But he didn't have to - the monks and temple elders began teaching him the customs. More than 100 people, most of them strangers, he said, attended the service.
"I didn't think anyone would care enough to participate," he said.
Passing on traditions isn't easy for a community whose generations are alienated from each other by culture and language. The older generations often speak Khmer and a little English. Younger people often speak English and a little Khmer.
"There is a huge identity crisis among young people," said Savong Lam of United Cambodian Families. "They can't communicate with their parents."
In addition, Thap said many young men value street smarts more than their parents' values.
"Growing up in Stockton, most people, just like me, grew up in a gang environment," Thap said. "They didn't want people, their peers, to make fun of them."
But just beyond neighborhoods where street cred is the culture, an ornate concrete gate east of Highway 99 on Carpenter Road curls up to the sky.
Here, Wat Dhammararam draws Cambodian American Buddhists from as far away as Washington, D.C.
Toward the back of the 10-acre lot, beyond two modest houses and past the main temple hall, is a garden of concrete sculptures painted in brilliant orange and blue, laden with jewels and draped with silk.
A walk around the three dozen or so life-size sculptures tells the life story of Siddhartha Gautama, the man who would become Buddha. Among them: young Siddhartha as a prince on a horse-drawn cart, teenage
Siddhartha cutting off his hair with a sword, as Buddha facing a murderer with a bandolier of his victims' fingers around his chest and a 100-foot Buddha lying on his deathbed.
And the garden keeps growing.
Even on the sleepiest, heat-soaked afternoons, Kong Tith, the mastermind behind the sculptures and a senior monk, is making progress on new sculpture molds or repairs.
It's this constant construction - and Tith's encouragement for people to help - that's, in part, drawing people in.
Beneath the hum of high-voltage power lines, four towering manifestations of Buddha and one angel - each more than a dozen feet tall - watch over the grounds at its farthest end.
Thap points to them with pride.
"I helped build those," he said.
Thap has been coming to the temple nearly every day for about 18 months, he said.
He shows up a few hours before his shift as a machine operator. He spends a few hours helping with a construction project, picking up trash or sometimes just curling up in a hammock for a nap under the calm gaze of Buddha.
And many others have joined the effort.
Sara Kun, 55, is often in the shade of the makeshift shelter built to keep workers cool. Kun said it has become a place where people help or just hang out.
"People come here to spend time. They rest; some do a little work," he said. "They come and the Buddhas make everyone peaceful."
And all the activity has rejuvenated longtime members' commitment to the temple.
Funds for these projects come solely from donations.
Congregants paraded around the grounds on a month ago. They carried ferns and flowers with dollar bills sewed to the leaves, flags and twirling pinwheels. They raised about $10,000 on that August day, according to Hib.
"The leadership is really strong," said Lam, whose father drives from his home in San Jose visit the temple on holidays. "They are really making it a place where people want to come."
Temple leaders' future plans combine the practical and the inspirational.
They're raising money for a set of new bathrooms to accommodate visitors as well as a 75-foot-tall tower with Buddha on top.
"A tower close to heaven," Kun said. "And people can see it from the highway."