Top insurer forces employees to study Buddhist teachings
By Bob Unruh, WorldNetDaily, October 6, 2008
Managers' retreat requires chanting 'om' in dark room
Los Angeles, CA (USA) -- A former Prudential Insurance manager is preparing legal action against the company, claiming she was fired after blowing the whistle on mandatory Eastern religious exercises that included chanting the Hindu mantra "om" in darkened rooms.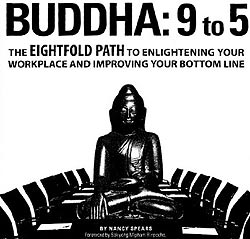 << Buddhist book required for a Prudential Realty managers' seminar
Prudential Insurance Co.'s southern California real estate division also required managers to read a Buddhist book, charges the Christian ex-employee, whose name has been withheld pending formal action.
The former manager's lawyer, Richard Ackerman of Ackerman Cowles & Associates, has written a letter to Prudential demanding the company stop requiring participation in the religous practices and warning he has been retained to pursue claims of religious discrimination, "hostile environment" and harassment against his client that led to her termination.
Ackerman told Prudential California Realty, a Berkshite Hathaway affiliate, it must stop the "discriminatory practice of segregating Christians from other employees and forcing employees to adopt and practice Buddhist theology as an implied or express condition of their ... employment."
Ackerman told WND his client was instructed to go to a managers' seminar and was given a book, "Buddha: 9 to 5," to study beforehand.
The book, boasting it was "based on the Buddhist practice of the Eightfold Path," provides "a hands-on set of tools to reawaken yourself, your employees, and your organization."
"Using the Buddhist concepts of Intention, Mindfulness, and Right Action, you'll be able to reap prosperity not just in profits but in stronger connections with your employees and your customers," the book instructs.
It was written by Nancy Spears, who was described in the book as "a former marketing executive who embraced spiritual practice as a means of survival in the corporate workplace," who now is on the board for the Shambhala Mountain Center in Aspen, Colo., where she lives.
Officials with Prudential California Realty did not return a WND message requesting a comment.
Ackerman told WND his client was in the management ranks for the organization and was required to attend a management conference that focused on the Buddhist book. He said managers also were required to be in 13-minute sessions in darkened rooms where everyone was instructed to sit in the lotus position with hands held overhead while the "om" chant was performed.
The "om" chant actually is more often associated with Hinduism, and an online information resource for the religion states, "The goal which all the Vedas declare, which all austerities aim at, and which men desire when they lead the life of continence ... is om. ... Whosoever knows this syllable obtains all that he desires. ... Whosoever knows this support is adored in the world of Brahma."
At the seminar, after the lights were turned back on, those who "felt uncomfortable" with the stunt were required to stand and explain. The participation in the mysticism conflicted with the religous and moral principles of the law firm's client, the wife of a local evangelical Christian pastor, Ackerman said.
"Basically what they did was made her life miserable [following her objections]," Ackerman said.
Ackerman's letter to the real estate company cited its "2007 Fall Leadership Conference - 'Rise Above' Lake Arrowhead" event.
"The event was, by all accounts, a required part of employment," Ackerman's letter said. "Part of the event included an unexpected and rather shocking indoctrination into Buddhist theology and actual meditation/prayer practices.
"Both the speakers and the content of the conference required employee acceptance of anti-Christian theology, practices and beliefs," Ackerman wrote. "While our office can conceptually understand the perceived need for acceptance, equality, and diversity, it is certainly unusual to require employees to engage in actual prayer/meditation exercises. Had employees been required to participate in Bible study, management-led compulsory prayer to the Holy Trinity, or other similar Christian practices, one can rest assured that complaints would be aplenty."
He said the pastor's wife and other workers who objected to the mandatory religious activity were "made to feel as though they were just not getting along with the intended program."
"Aside from the prayer activity, the program participants were also bombarded with 'Neuro-Linguistic Programming' ideology," Ackerman wrote. He explained to WND the ideology is a basic part of "New Age" religion.
"The uncomfortable employees were disregarded and treated as outsiders as a result of their discomfort with the infusion of religion and new age 'spirituality' into the workplace," he continued. "While it should have been apparent to anyone at the conference that mandating religious activity in a workplace is discriminatory, hostile, and inappropriate under California and federal law, the process went on anyway. In fact, the conduct toward my client was so shocking that she was caused to literally choke at the event and had to be rescued by a coworker," Ackerman said.
"Following the conference, Prudential CEO Steve Rogers continued to cause management meetings to be opened with the Buddhist prayer rituals," the letter said.
The manager's ultimate termination was "on a false pretense" last month, the letter said.