Buddha Jewel Monastery Opens in Seattle
by Frank Kliewer, The Buddhis Channel, Nov 18, 2008
Seattle, WA (USA) -- After two years of arduous planning and construction, members of the Chung Tai International Chan Buddhist Association have finished converting a derelict South Seattle church into a magnificent Zen Center and monastic residence. Ven. Jian Hu, the new Abbot of Buddha Jewel Monastery, was installed in a simple ceremony held September 20.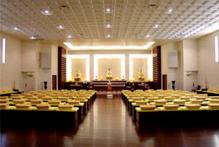 << Buddha Jewel Monastery's Main Zen Hall
Chung Tai acquired the empty structure at 7930 Avenue South, formerly a Baptist church, just in time to save it from likely demolition by housing developers. The Association next set about gathering the necessary permits and then began an extensive remodel process to create the Buddha Jewel Monastery.
With major architectural changes complete, a thorough refinishing of floors, walls, and ceilings turned the structure into a beautiful modern Buddhist temple filled with serene ambience. In addition to the main Zen Hall for meditation, there is a library, modern commercial-type kitchen, dining room, lecture hall, nursery, and computer room as well as various other spaces available to the public and lay followers.
Members of the old church congregation have come by and offered their thanks and amazement. Some have even voiced an interest in attending future events.
Buddha Jewel's Abbot, Ven. Jian Hu, exemplifies the blending of modern and traditional that characterizes the Chung Tai approach to Dharma. Educated in the United States from the age of 14, he graduated from the California Institute of Technology and received a doctorate in Computer Science from the University of California, San Diego.
Renouncing worldly pursuits, he sought ordination and trained under Chung Tai Grand Master Wei Chueh, in Taiwan. He currently divides his time between Seattle's Buddha Jewel and the Zen Center of Sunnyvale in the Silicon Valley, which he helped establish four years ago.
Among the dignitaries honoring the opening of Buddha Jewel Monastery were Robert C. M. Chen, Director General, Taipei Economic and Cultural Office (TECO) in Seattle and Andrew S. L. Lin, director of the TECO Culture Center. The senior monk presiding at Ven. Jian Hu's introduction was Master Jian Wei, Vice-Abbot of Chung Tai Chan Monastery and Dean of the Monks Institute in Puli, Taiwan. Other monks and lay members came from California to assist in final preparations and to share the happiness of the day.
According to supporters of Buddha Jewel, Ven. Jian Hu "is a true blessing." He understands Western thinking and is admired by those attending his discussions for his wisdom, practical teachings, effective communication, and sense of humor.
Three other monks reside full time at the monastery under the guidance of Executive Director Ven. Jian Yan.
Founded by Grand Master Wei Chueh in the 1980's, Chung Tai shares credit for the contemporary revival of Chinese Zen (Chan) Buddhism in Taiwan and its growing popularity among both Chinese and Westerners in the United States.