Buddhists gather for an all-nighter in Portland
by Nancy Haught, The Oregonian, December 10, 2008
Portland, Oregon (USA) -- The Rev. Gregory Gibbs began the first all-night chant at Oregon Buddhist Temple by bowing before a golden Buddha. Then Gibbs turned to his right and walked slowly around the outside aisles of the hondo, or sanctuary. Pausing at the back of the room, he bowed before the central altar again. He and seven others pressed their palms together in gassho, an ancient gesture of unity that became the Christian posture of prayer.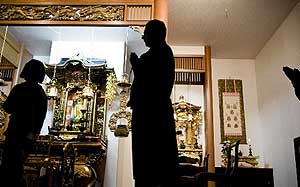 << Leah Nash/Special to The Oregonian
The Rev. Gregory Gibbs, minister of the Oregon Buddhist Temple.
As participants moved about the room, male voices dominated the chant, stressing the first syllable and fading to whispers. The women chanted more softly. Occasionally, a floorboard under the carpet creaked. One by one, other people arrived and joined in the walking meditation. With more voices, the chanting blended into a delicate hum. The walkers moved in an unbroken circle around the sanctuary.
On Saturday night, while most of Portland slept, a small group of Buddhists chanted the vow that each of them repeats throughout their lives: Namo amida Butsu, "I rely on the Buddha of limitless wisdom and endless life." For 11 hours, from 9 p.m. Saturday to 8 a.m. Sunday, they repeated the Chinese phrase, sitting, standing and walking inside their unassuming temple on Southeast 34th Avenue, a block off of Powell.
Many Buddhists around the world observe Dec. 8 as Bodhi Day, or Rohatsu. About 2,500 years ago, a young prince known as Sakyamuni, or Siddhartha, awoke after a night of meditation under a bodhi tree. Gazing at the morning star, he realized the oneness of life, an ultimate truth, his followers say, that transformed him into the Buddha, or "awakened one."
The all-night chant was Oregon Buddhist Temple's way of remembering the Buddha and the founder of their own sect, known as Jodo Shinshu. The founder, Shinran Shonin, was born in 1173 in Japan. After years of intense monastic training, Shinran let go of the rigorous life of an intellectual monk and devoted himself to a path that ordinary working people could follow. The practice turns around the nembutsu, or recollection of the Buddha.
"This is already more people than I expected," Gibbs said as nine people gathered in a sanctuary that looked like a church: wooden pews in rows facing a raised altar that was flanked by a modern organ and an upright piano. He wore a knee-length black robe and a narrow black and gold embroidered stole across his shoulders. "Let's start."
Gibbs, the minister of the temple, passed out packets with an informal schedule of the chanting and three forms of the nembutsu, handwritten in Chinese characters with phonetic pronunciations and rough English translations. He encouraged about a dozen people to repeat any version, whenever they felt moved to do so, as loudly as they chose. The night would be broken into 45-minute segments of chanting, with 15-minute breaks for the "judicious" use of caffeine. Snacks were available downstairs in the reception hall. People could come and go as they liked.
"We are not a rigorous practice tradition," Gibbs reminded his congregation and the visitors who had come to chant. "We see the Buddha nature as spontaneously manifesting itself in our lives," he said. "It just happens. Reality perfumes or pervades our delusions."
During each break in the chanting, a different group gathered around two long Formica tables in the reception hall. Some sipped frothy bowls of matcha, green Japanese tea made from fine powder and beaten with a bamboo whisk. Others drank coffee -- French-pressed, stove-top espresso or long-simmered in the Turkish manner -- all brewed by Jerry Fugate, a chemistry teacher at Portland Community College.
His wife, Brenda, an assistant minister at the temple, set out plates of pistachio bread, baklava and Mexican and Japanese pastries. Buddhists disagree whether their belief system is a religion or a philosophy, but she sees it as a religious practice.
"There is a goal," she said, "a confidence that enlightenment is coming, that we will be reborn in the Pure Land." A night spent chanting and walking in meditation, so uncharacteristic of her sect, is a reminder that her faith is real and reflected in day-to-day life. "This is a cross between a religious retreat and a pajama party," she said of the evening, a chance to bond with people, share a little of their inner lives and welcome guests.
At 3:25 a.m. a new family joined the group. So far, the meditations had involved walking around the chapel, moving past ornate golden altars on the raised stage, sitting alone or in pairs in the pews and more rhythmic chanting. The number of participants changed throughout the night -- always at least seven or eight, sometimes as many as 11 or 12. At 5:05 a.m., a few new voices reinvigorated the chanting.
Before the final session, a last round of walking meditation, Gibbs paused before a half-dozen delicate paintings hanging on the temple's west wall. They portray moments in Shinran's life: his ordination at age 9, his choice of complete trust in the Buddha over rigid practice, his compassion overcoming a mortal enemy, and the writing that consumed much of his long life.
As Gibbs told the stories depicted in the paintings, dawn lit the opaque windows reminiscent of paper screens in Japanese temples. A handful of people had chanted all night, taking only short breaks to visit, answer questions and encourage each other. Gordon Wong's voice never lost the enthusiasm and joy of his first chants 11 hours earlier.
He hopes the temple will repeat the all-night chant next year and that more people will attend.
"It's something unusual in our practice," he says. "But it reminds us that as we walk through life, we carry the nembutsu with us. We're calling out to the Buddha, and he responds."