Believers and Curious View Relics
By Kurt Streeter, Los Ageles Times Staff Writer, Feb 6, 2005
The cremated remains of 30 Buddhist masters, said to have special powers, attract about 1,000 visitors to the Santa Monica display.
Santa Monica, Calif. (USA) -- Using both hands, the black-robed priest took a small shrine, filled with what are said to be the remains of Shakyamuni Buddha, and passed it over Gillian Early's bowed head. He kept it there for a moment.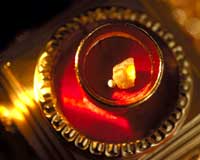 "Can you do one for my baby?" Early asked, pointing to her belly, bulging slightly because she is pregnant. The priest nodded, then held the flask-like object over her abdomen, chanting softly as Early trembled in awe.
It was one of dozens of small, emotion-filled moments in Santa Monica on Saturday at a traveling display of Buddhist relics, the cremated remains of 30 of the religion's master teachers. About 1,000 Buddhists, people of other religions and the merely curious showed up at a small conference room in a church to view the display.
The daylong affair was quiet, reverential and, for many, extremely powerful.
"This is just a very personal thing, coming here ? for some, life-changing," said the Venerable Tenzin Saldron, a Buddhist nun who has been traveling with the relics.
She echoed a belief shared by many Buddhists on hand: "No matter if you are a Buddhist or not," she said, "you will receive blessings just by being here, blessings that can affect you even in your next life."
Saldron gazed at a small golden shrine, called a stupa, believed to contain the cremated remains of Shakyamuni Buddha, who was born Siddhartha Gautama about 2,500 years ago and is known as the Enlightened One.
Devotees believe the small, pebble-like remains, called ringsel, are endowed with special qualities that can bring good fortune and even wipe away the effects of bad deeds. The relics can change hues and even multiply, Saldron claimed.
"You sort of get to know them like old friends," said the nun, a sturdy woman with a shaved head and round, warm eyes.
She chuckled and said, "You see them change over time. The way they change ? it's sort of like when you see a friend and you say 'Oh, you've lost weight. Oh, you've got a haircut.' It's very mysterious."
As she spoke, about 50 people walked counterclockwise around a small table draped with silken cloth. Perched atop the table was a statue of the Buddha, and around it more stupas, holding the relics.
A few of the onlookers gazed for hours at the relics, which included bits of hair. Some cried, some meditated, and some hugged and whispered prayers. Others slowly took positions on the green carpet, bowing their heads in honor, even lying flat on their stomachs.
"There's a beauty in bringing this to the West," said Victoria Ewart, who directs the tour, which has had recent stops in Atlanta, New Orleans and New York. "In Asia, when relics are shown, you can get tens of thousands of people. This is much more intimate."
Ewart's teacher is Lama Zopa Rinpoche, who lives in Santa Cruz. He received some of the relics from the Dalai Lama.
The touring display, which is free, is meant partly to raise awareness of an ambitious plan to build a 500-foot bronze Buddha statue in India by 2010. A hospital and a school also are planned for the $250-million project, Ewart said. About half the construction cost has been pledged so far.
Gillian Early, the woman blessed by the priest, was clearly moved. A few moments after the ritual, the Santa Monica yoga instructor stood near the relics, still trembling and working to gather her composure.
"I did not expect to feel this, but once I stepped in front of him, I was overcome with a sense of loving, a sense of giving," she said.
She looked at her abdomen and said her baby was due in four months.
"What a wonderful moment," she said, "not just for me but for my unborn child. It's just a blessing to be here, for both of us."
*
The relics will be on display today from 10 a.m. to 5 p.m. at the First Presbyterian Church, 1220 2nd St., Santa Monica.