Long Beach Buddhist center founding lama dies
By Elaine Woo, Los Angeles Times, February 21, 2009
Geshe Tsultim Gyeltsen dies at 85

Long Beach, CA (USA) -- Geshe Tsultim Gyeltsen, a leading Tibetan lama, human rights activist and founder of a Buddhist center in Long Beach, died Feb. 13 after a short illness. He was 85.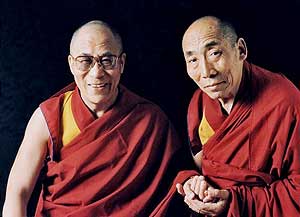 << Don Farber Photography
Geshe Tsultim Gyeltsen, right, with the Dalai Lama in a photograph featured in ìPortraits of Tibetan Buddhist Mastersî by Don Farber. Gyeltsen opened the Long Beach center in 1978.
Gyeltsen died at his home at the Thubten Dhargye Ling Buddhist center, which he founded in 1978, two decades after he fled the Chinese occupation of Tibet.
A member of the same Buddhist sect as the Dalai Lama, he hosted six visits to Los Angeles of the exiled Tibetan spiritual leader, the most recent in 2006.
Known for his traditional approach to Buddhist teaching, Gyeltsen was one of a dwindling number of Tibetan-born teachers who followed the Dalai Lama into exile 50 years ago.
"He is one of the teachers who brought Buddhism to the West," said James Shaheen, editor of the Buddhist journal Tricycle.
The author of two widely read Buddhist commentaries -- "Compassion: The Key to Great Awakening" and "Mirror of Wisdom" -- Gyeltsen also championed human rights and religious freedom in Tibet as a board member of the International Campaign for Tibet, a Washington, D.C.-based group chaired by actor Richard Gere.
Born Jamphel Yeshe in 1923 in the eastern Tibet province of Kham, Gyeltsen was ordained as a Buddhist monk at age 7. When he was 16, he undertook a 33-day journey across 25 mountain passes to reach the Gaden Monastery near Lhasa, the Tibetan capital. He studied there for the next two decades.
In 1959, after the failure of the March 10 Tibetan rebellion, the Dalai Lama fled to India, where he established a government-in-exile. Gyeltsen, along with 50 other prominent monks, soon followed.
"Escape was very difficult because the few good roads the Chinese were holding already," Gyeltsen told The Times in 1989.
With Chinese soldiers fast approaching, the group traveled for a month to reach the Indian border, including three days crossing the snow-covered Himalayas.
He ended his journey in Dalhousie, in northern India, where he completed his studies at the Gyuto Tantric College. At a refugee camp in West Bengal, he passed the examinations to earn the rank of Geshe, which has been described as a doctorate of Tibetan Buddhism.
In 1963 he immigrated to England, where for several years he instructed Tibetan refugee children in Buddhist philosophy and Tibetan language and culture. In 1975 he moved to the United States and taught Tibetan language, meditation and religious studies at UC Santa Barbara and UCLA.
At the urging of his students, he formed Thubten Dhargye Ling Buddhist Center in Los Angeles; it was relocated to Long Beach in 1996. He also founded centers in Northern California's Grass Valley, Texas, Colorado, Alaska, Mexico and Europe.
He was one of 76 Buddhist teachers featured in "Portraits of Tibetan Buddhist Masters" by Santa Monica photographer Don Farber, who knew Gyeltsen for 30 years.
"His death is a great loss," said Farber, who called Gyeltsen "one of the last living masters" of Tibetan Buddhism. "Newer incarnations and generations of teachers will be different because of cultural influences. He was creating a foundation for students to learn about Tibetan Buddhism in a completely authentic way."
Gyeltsen is survived by a son, Tsewang Gyeltsen of Long Beach; a sister and several nieces and nephews.
His body will be taken to India for a special cremation ceremony, where Buddhist monasteries will offer prayers. Donations to support the prayer rituals may be sent to Thubten Dhargye Ling, 3500 E. 4th St., Long Beach, CA 90814.