Revered Buddhist remains on tour
By Laura Casey, ALAMEDA TIMES-STAR STAFF WRITER, Feb 17, 2005
Cremated relics, touted for special powers, will be in Oakland for the first time
OAKLAND, Calif. (USA) -- Carl Chan remembers feeling his body "light up" and become more energized after seeing long-hidden Buddhist relics on display last year in San Francisco.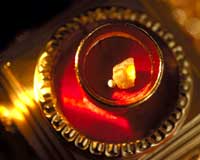 "I couldn't explain it," said Chan, president of the Oakland Chinatown Chamber of Commerce. "I was sensing this strong energy for a few days."
His experiences are not unusual, say those who believe a collection of cremated remains of Buddhist leaders bring spiritual power to the public. The relics, some about
2,500 years old, are said to deliver inner peace, happiness and calm.
The objects of the Heart-Shrine Relic Tour, presented by the Maitreya Project, will be on display for the first time in Oakland on Sunday.
The objects have been displayed in Alameda, San Jose and San Rafael in in the past.
"This is a very precious opportunity for the people of Oakland to experience these objects," said Heart-Shrine Relic Tour Director Victoria Ewart.
The relics are pearl-like crystals found among the cremation ashes of the Buddha. Placed in ritual containers, the relics have drawn crowds of 1 million
in Hong Kong and about 3,000 in Los Angeles, organizers say.
It is rare for Buddhist relics to be made available for public viewings, much less taken from their resident countries, project officials said.
Ewart said the relics are gifts left intentionally behind by the Buddhas, gifts that believers say ordinary people cannot produce during the cremation process. Buddhists believe the relics are formed as a result of the spiritual realizations of compassion and wisdom.
Some of the objects are said to change color
and mysteriously multiply after being in the presence of strong meditation and prayer.
The display includes the relics of Shakyamuni Buddha, born about 563 B.C. on the modern border between India and Nepal. Before his enlightenment, he was known as Prince Siddhartha. He taught that the condition of absolute happiness, and freedom from fear and from all illusions, is inherent in all life.
Other relics are from more modern "lamas" and "masters," revered spiritual teachers of Buddhism.
The objects have been collected by Lama Zopa Rinpoche, spiritual director of the Maitreya Project, which plans to build a 500-foot-high bronze statue of the representation of the Maitreya Buddha in Northern India.
The objects come from Burma, Indonesia, Tibet, China and Thailand and are presented to Rinpoche by museum abbots, Thai monks, Rinpoche's students and private families, some of whom salvaged relics from statues destroyed during China's 1951 invasion of Tibet. By 2010, the collection will be installed in the Maitreya Buddha.
The relics will be on display from 10 a.m. to 5 p.m. Sunday at the Oakland Asian Cultural Center, 388 9th St., Suite 290. The event is free but donations are welcome to the Maitreya Project. For more information, visit: http://www.maitreyaproject.org/