Kaua'i Buddhists join world in Hanamatsuri celebration
By Dennis Fujimoto, The Garden Island, April 6, 2009
LIHU'E, Hawaii (USA) -- Several hundred people on Kaua'i took time out to celebrate Hanamatsuri on Sunday at the Kaua'i Veterans Center in Lihu'e.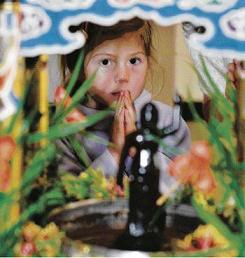 << Kaya Myle, 4, of Hanalei puts her hands together in gassho as she eyes the glistening statue of Buddha in the hanamido during the Hanamatsuri services sponsored by the Kaua'i Buddhist Council, Sunday. Kaya's mother Valerie Mae, who is a practitioner of sumi-e calligraphy, said this was Kaya's first Hanamatsuri. Dennis Fujimoto/The Garden Island
These people of the Buddhist faith joined the millions around the world who celebrate the birth of Buddha some 2,500 years ago in a garden in India.
Buddhism is one of the world's major religions and the Buddhist way of life of peace, loving kindness and wisdom is evident today on Kaua'i and throughout the state, a mayoral proclamation states.
In Hawai'i, Hanamatsuri, generally observed April 8, was officially recognized as Buddha Day by the state Legislature in 1963.
When Siddartha Gautama Buddha was born in Lumbini Garden, his father was a king and his mother was a queen. His name, Siddartha, was given to him by the king because it meant "every wish fulfilled."
Queen Maya, Buddha's mother, was en route to her parents' home to give birth, as was the custom of that time, and during a stop at Lumbini Garden, the child was born amidst flowering trees, plants and a gentle rain.
"Legend tells us that when he was born, he took seven steps, pointed with his right hand to the heaven, pointed to the earth with his left hand, and declared 'In the heaven above and below them, I shall be the one to save the universe,'" Rev. Leonard Abeshima of the Waimea Shingon Mission said.
Abeshima said Buddha was declaring the worthiness of having received unto himself, the life and blessing of the entire universe and having been born as a human being. He said this voice is not only of Buddha, but of each and every one of us who are born with our one and only human body and mind.
Every year we celebrate our own birthday, states an article by the Northwest Ministerial Association Buddhist Churches of America. In our youth, we are anxious to reach "adulthood," and in old age, we attempt to cling to our "youth."
Much of the meaning and reason of our own birth is lost in the gifts and merriment. The celebration of our birth is an expression of gratitude. This gratitude grows from an understanding that our birth is the result of many people and one's life is intertwined with all others.
The Rev. Hiromi Kawaji, a retired minister with the Hawai'i Betsuin and the resident minister at the Kapa'a Hongwanji Mission from 1968 to 1974, said in his keynote address that Hanamatsuri is an opportunity for Buddhists to thank Buddha for his teachings.