Peace Activist and Zen Master Thich Nhat Hanh to Visit United States August 9 - October 10, 2009
The Buddhist Channel, June 4, 2009
ESCONDIDO, Calif., (USA) -- Venerable Thich Nhat Hanh, who was nominated for the Nobel Peace Prize in 1967 by Dr. Martin Luther King, Jr. and is one of the world's foremost spiritual teachers, will embark on a teaching tour of the United States in the autumn of 2009.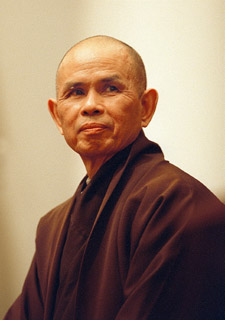 During his time in America, Nhat Hanh will lead five mindfulness retreats, three public talks and several Days of Mindfulness, including one in association with the Omega Institute in New York. His visit will begin on August 9, 2009 at Blue Cliff Monastery in Pine Bush, New York.
The monastery, located near the Catskill Mountains, is the latest practice center founded by Nhat Hanh in the United States, opening its doors in May 2007. The tour then includes stops in Massachusetts, Colorado and Mississippi. In California, two retreats will be held at Deer Park Monastery in Escondido, California. In 2008, the monastery, also founded by Nhat Hanh, became one of the few mindfulness centers in the United States to convert to 100% solar energy. The full itinerary, ticketing and registration information can be viewed at www.tnhtour.org.
Nhat Hanh is the author of over 100 books on how individuals, families and communities can transform violence and suffering to create peace and joy. His best-known books include: Peace is Every Step, Being Peace, Living Buddha Living Christ and the New York Times bestseller Anger. His latest books are Happiness: Essential Mindfulness Practices and Answers from the Heart: Compassionate and Practical Responses to Life's Burning Questions. His books have sold over a million copies.
In past years, Nhat Hanh has also offered special retreats for veterans, prison inmates, ecologists, business people, police officers and members of Congress. He has addressed audiences at the White House World Summit Conference on HIV and AIDS, The Gorbachev World Forum and the World Economic Summit in Davos, Switzerland.
He has ordained over six hundred monks and nuns from different parts of the world. In addition, several hundred lay practice communities practicing in the tradition of Thich Nhat Hanh meet regularly throughout the United States and around the world. He has founded two meditation centers in the United States and one in France, called Plum Village, where he resides throughout the year.