Buddhists gather to celebrate Buddha's birthday
By DEEPA BHARATH, The Orange County Register, June 5, 2009
For the first time, about 7,000 Buddhists will celebrate Saturday in Anaheim
GARDEN GROVE, CA (USA) -- For the first time, Buddhists from all over Southern California are congregating in Anaheim to celebrate Vesak or Buddha Day at the Convention Center Saturday.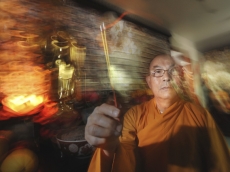 << Master Thich Chon Thanh inside the Lien Hoa Buddhist temple where monks pray for those who have passed away.
"This is Buddha's birthday," said Thich Con Thanh, abbot of the Lien Hoa Buddhist Temple in Garden Grove. "This is like Christmas for Buddhists all over the world."
Thanh is organizing the event, which he expects will be attended by at least 7,000 followers from Orange, Los Angeles, Riverside and San Diego counties. The Buddhist population is Orange County and the rest of Southern California has grown exponentially in the last five to 10 years, Thanh said. Members of 15 Buddhist temples from Southern California will participate in the festivities, he said.
Vesak is the most important festival for Buddhists, said organizer Phat Ngiem.
"It's celebrated all over the world by followers of the Buddha," he said. "It's our way of getting the Buddha's blessings and showing our gratitude for his teaching. Our prayers on that day are to remind us of his venerable teachings and what we are supposed to do in our daily lives. We listen to our masters. It's a day of reflection and prayer."
The celebration will begin at 1:30 p.m. with a traditional Buddhist ceremony when abbots from different temples will give sermons and chant Buddhist prayers. Organizers are also creating several exhibits that provide information about Buddhism, their traditions and culture.
"It's more of a cultural exhibition," said Ngiem. "We'll have paintings, pictures, bonsai and other items that depict the culture and traditions that came from Buddhism."
Vesak is an annual holiday observed traditionally by practicing Buddhists in South Asian and South East Asian countries such as Vietnam, Nepal, India, Singapore, Thailand, Cambodia, Malaysia, Sri Lanka, Myanmar and Indonesia. It is informally referred to as "Buddha's birthday," but it encompasses the birth, enlightenment and passing of Gautama Buddha.
On Vesak Day, most followers eat vegetarian food and participate in traditional chants and rituals, he said.
Follower Tom Truong said, for him, Vesak is a "happy occasion."
"It's great to see all the temples getting together and coming together as well to celebrate this happy time," he said.