City of Ten Thousand Buddhas celebrate 30 years
By MONICA KRAUTH, The Daily Ukiah Journal, July 6, 2009
Ukiah, CA (USA) -- The memory of Buddhist "venerable master," Hsuan Hua, was celebrated last weekend at The City of Ten Thousand Buddhas, as part of the 30th anniversary of the monastery.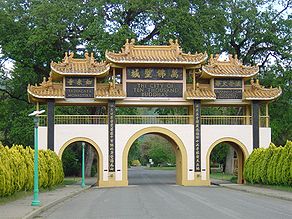 Hua, known for the founding of many western Buddhist institutions during his time in the United States, was one of the first known Ch'an masters to transmit orthodox East Asian Buddhism to the west and ordained some of the first native-born Buddhist monks in the United States.
"We're paying gratitude to him on this 30th anniversary how he helped establish the City of 10 Thousand Buddhas. "We're reflecting with gratitude and renewing with vigor" said Terri Nicholson, a spokesperson for the event.
Involved with starting the school and having lived on the property
for "many years" Nicholson has seen many physical changes at the Buddhist school. For one thing, she said, the now Buddha hall used to be a gymnasium which now has two extra wings, windows have been replaced, landscaping done to the property, the dining hall and main gate were both built by many people of the community.
At the celebration, there were various talks on way the monastery was started in the first place, the visions of the school, the training of monks and nuns, and a traditional Chinese dragon dance. Also birds, that were originally bought for target practice in the Bay Area were were released at the Liberation Life Ceremony. The anniversary also included a Buddhist knowledge contest that boasted 50 contestants.
Asked how long the celebration took to prepare, Nicholson said "in some sense, 30 years."