Buddhist week of honoring ancestors draws to a close
By Brian Day, Whittier Daily News, Aug 23, 2009
HACIENDA HEIGHTS, CA (USA) -- Thousands of people visited the Hsi Lai Temple in Hacienda Heights over the weekend to offer prayers for departed loved ones and ancestors.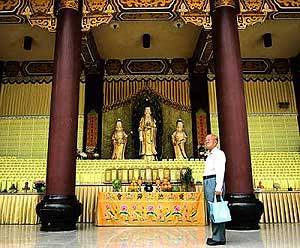 << Thanh Phu, of Los Angeles, visits the Hsi Lai Temple in Hacienda Heights Saturday, August 22, 2009 during a week of prayer services for the deceased and ancestors at the temple for "The Seventh Month." (SGVN/Staff Photo by Sarah Reingewirtz/HIGH)
The observance is part of an ancient Buddhist tradition known as Ullambana.
The seventh month of the Chinese calendar - which this year runs from mid-August to mid-September - is traditionally set aside in Chinese and Buddhist Culture as a time to pray for "universal good will and blessings," but especially for the dead, said the Venerable Miao Hsi, a spokeswoman for the temple.
At Hsi Lai Temple, Ullambana is celebrated over eight days and is a time when those ideas are emphasized through ceremonies, chanting and reflection, Hsi said.
This year's Ullambana week began Aug. 16 and ended Sunday.
The tradition is based around the Buddhist notion of "filial piety," she said.
"You honor your parents, seniors, ancestors," Hsi said. "It's to show that we care for people who came before us."
Some of the traditions practiced during the week date back more than 1,000 years, she said.
Each morning of the Chinese seventh month at the temple begins with a traditional chant known as the "Ksitigarbha Sutra."
Ullambana week also consists of a purification ceremony, repentance ceremonies and offering ceremonies.
In one such ceremony, people write the names of deceased loved ones and ancestors on pieces of paper. They then place them on a special shrine, along with offerings of food, before praying for their well-being in the afterlife.
At the conclusion of the week, the names are gathered and burned so the smoke can drift up into the heavens in a ceremonial gesture to the dead.
"It's like a send-off," Hsi said.
Kenny Chang, a Rowland Heights resident and volunteer at the temple, said Sunday he was paying respects to his father as well as the hundreds of victims of Typhoon Morakot, which claimed an estimated 650 lives when it swept through Taiwan on Aug. 8.
"My father, last year, passed away," he said. "So I came to do the ceremony. But this is not only for my father, it's for all life, especially with Taiwan."
Donations were collected for typhoon victims.