Guadalupe Buddhists gather for centennial
By Mark Brown, Lompoc Record, October 17, 2009
Guadalupe, CA (USA) -- Members of Guadalupe's Japanese community, both past and present, gathered in front of the Guadalupe Buddhist Church Saturday morning for a group photo commemorating the congregation's centennial anniversary.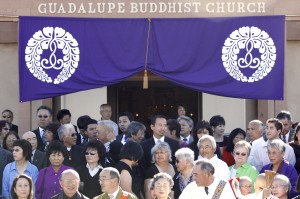 << Mark Brown/Staff
Past and present members of the Guadalupe Buddhist Church gather for a group photo Saturday to mark the church's 100-year anniversary.
Throughout the church's 100 years of existence, its members have assembled in a similar fashion to mark significant milestones. Aging black-and-white photos show them posing in front of the church's first permanent home, which was replaced in 1960 by the congregation's current, modest temple, tucked between apartment buildings on a quiet street.
Many of the members who attended Saturday's centennial events, which included a Buddhist ceremony and a banquet at the Santa Maria Radisson Hotel, appeared in those fading photographs.
And many of them still remember the hardships their friends and families - especially their parents - endured in order to celebrate the century-long legacy of their religious community.
"Today says a lot about what the Issei (first-generation Japanese-American) and Nisei (second-generation) went through before, during and after the war," said Mike Furukawa, Buddhist temple president. "We, the Sansei (third generation) are trying to carry on for them."
Many of the first-generation Japanese-Americans arrived on the Central Coast toward the end of the 19th century and the beginning of the 20th century. They endured laws prohibiting Japanese from owning land, the Great Depression, and then internment and forced evacuation during World War II.
"This (church) is where they felt very comfortable," said Dawn Kamiya, who was born in an Arizona internment camp after her parents were forced to leave Guadalupe. "Throughout the years, this has kind of been the thread that really pulled them together, throughout their adversities and all the problems that they had."
In the years leading up to World War II, Guadalupe's Japanese community flourished, bringing innovations to vegetable growing operations in the Santa Maria Valley, establishing businesses and adding a children's language and cultural school to its young church.
But the Japanese attack on Pearl Harbor on Dec. 7, 1941, changed everything. The U.S. government saw Japanese-Americans as a threat within its borders, forcing them to abandon their homes, businesses and churches. Some 120,000 were relocated to live behind barbed wire in camps across the
country.
Frances Miyake-Mizuki, Harry Masatani and Sammy Maenaga were all teenagers in 1942 when the government came to Guadalupe with evacuation and internment orders. Their confused families complied with the orders.
"What can you do when there are soldiers with guns?" asked Harry Masatani, whose parents established a Guadalupe market that is still in business today.
"There really wasn't a choice," Miyake-Mizuki agreed.
Miyake-Mizuki's family was forced onto a train with blackened windows and eventually wound up at a camp in Gila River, Ariz.
Maenaga tracked down his father and other Guadalupe residents at a processing station at Tujunga Canyon, a former Civilian Conservation Corps camp on the edge of Los Angeles.
"It was really a pathetic scene. They had their heads hung low and overcoats on," Maenaga said, adding that armed soldiers in guard towers surrounded the camp. "I thought, these people are farmers, they're merchants, what is this?"
The next day, Maenaga's father was transferred to an internment camp in Bismarck, N.D.
Masatani spent much of the war with his family in a Colorado internment camp where, he said, life was full of surreal ironies.
"Every morning we started out with the Pledge of Allegiance," Masatani said. "'With liberty and justice for all,' and we're surrounded by barbed wire fence and guard towers."
After the camps closed, many of the internees had nothing more than the $25 Masatani says they received from the government after being released.
Some struggled to regain their lost property and businesses. Guadalupe's Asian population dwindled.
But for the families that did return - the Miyakes, the Masatanis, the Maenagas and others - the Buddhist Church remained, protected through the war years by concerned friends of the town's Japanese population. What remained of the congregation united, providing makeshift housing for friends and family with nowhere else to go.
"The church was one of the big things that did a lot of good for the Issei people coming back," Maenaga said."
Decades later, the U.S. government apologized for its actions against Japanese-Americans during World War II and provided monetary reparations to surviving internees.
But the apologies came to late for many.
"It was our parents that suffered and had such a loss, but they're gone," Miyake-Mizuki said.
At the centennial celebration Saturday, members of the Buddhist church held a moment of silence for the Issei, for the parents and grandparents who gave birth to the church and quietly suffered so that their children might prosper.
"We carried on our Issei people's dreams and brought it this far," Maenaga said. "And now we'd like to leave this to the next generation, our kids and grandkids."