Marysville's small Buddhist congregation prays for new year
By Nancy Pasternack, Appeal-Democrat, January 1, 2010
Marysville, Washington (USA) -- Hatsue Nakamura missed New Year's Day services at the Marysville Buddhist Church in 1943, 1944, and 1945. Those were the years she and 120,000 other Japanese-Americans were held in World War II internment camps.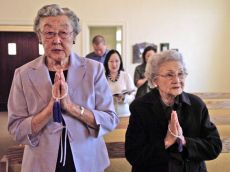 << Louise Nishikawa, left, of Yuba City and Hatsuye Nakamura of Marysville participate in the New Year's Day service on Friday at the Buddhist Church in Marysville.
But on Friday morning, Nakamura, 89, sat near the center of her beloved church — site of so many of her earliest memories — and said prayers for the new year.
The start of 2010, said the Rev. Patti Oshita of Sacramento, offers a chance "to find ways to better ourselves, or to find ways to make our lives even more meaningful."
Nakamura and the 20 or so other congregants who came to this plain white building for the annual celebration chanted the juseige — a prayer for awakening — with Oshita.
They clapped their hands twice, as is the custom, and Nakamura smiled.
After the service, she shared memories of her husband, Buntaro Nakamura, who died five years ago, and whose father founded this church more than 100 years ago.
Not all of these memories are happy ones.
Many former friends and neighbors had turned their backs on residents of Japanese descent when they returned after the war, she said.
Nakamura's husband had owned a drug store on D Street, not far from Marysville's small Nihon-machi or Japantown.
But on July 11, 1942, all Japanese-American business interests and property were taken, and the Nakamuras, then newly married, were herded into an assembly center in preparation for internment at a Tule Lake encampment.
"I wonder if any other ethnic group would have been as obedient," Hatsue Nakamura said.
After returning from a second internment in Colorado in December 1945, the Nakamuras and other local Japanese had virtually nothing in their lives except their families and their church.
Signs posted in many of the region's store windows read, "No Japs Wanted." Buntaro Nakamura, once a pharmacist, could not find work.
Hatsue Nakamura recalls the indignity. Her eyes fill with tears, but she swallows hard and no tears fall.
"You have to belong to your community, and be good citizens despite the fact that we were denied our rights," she said.
Finally, one drug store owner in town, a "Mr. Gus Kirk," she recalls, "was brave enough to hire him."
One of the store's customers sticks in her memory. The customer made it clear to Nakamura's boss she would take her business elsewhere because of his decision to hire a Japanese man.
Years later, Buntaro Nakamura was able to establish his own store again — this time on North Beale Road.
"In due time, she (the customer) started coming to our drug store," Nakamura said. "It took time for people to accept us. I think time heals."
Eventually, all three of the couple's sons went on to become pharmacists, too.
Brent Sasaki, one of the Nakamuras' nephews now living in Sacramento, returns to the Marysville Buddhist Church on special occasions, because of its significance to his family and childhood.
On Friday, he remembered attending Dharma school — the equivalent of Sunday school — as a child, and learning Japanese songs.
Back then, he said, "schools came here for field trips to learn about Buddhist culture."
Though most of the church's congregation has died or moved away, Hatsue Nakamura said, much of the difficulty in keeping it afloat is the product of the Japanese community's success.
"We sent our children to college. We wanted our children to have a fair life," she said, smiling. "They did not come back."