Sand painting symbolizes brevity of life
By DAVE GROVES, The Daily Oakland Press, Mar 25, 2005
Oakland, Calif. (USA) -- Starting with a single grain of sand, eight Tibetan Buddhist monks spent 19 hours constructing a 5-foot mandala sand painting at Oakland University this week.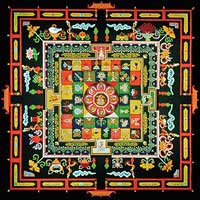 << The Medicine Buddha mandala
Both the construction process and a colorful closing ceremony attracted hundreds of Oakland University students, staff and visitors fascinated by the exquisitely detailed work.
"I've been coming here every two hours while they've been working on this to see how it's progressed," said Oakland University junior Saman Waquad. "It's a great form of art and a great way to share a culture that you don't ordinarily get to see a lot of."
The monks, called lamas, hail from the Drepung Loseling Monastery in South India. A temple was built there after the original site near Lhasa, Tibet, was destroyed during the Communist Chinese invasion of 1959.
Since 1988, the lamas have toured the world to advance Buddhist tenets of peace, healing and compassion. Mandala demonstrations also raise funds for the preservation of Tibetan culture and help solicit political support for the liberation of Tibet.
Phenthok, a spokesman for the monks, said tours in the United States have been highly rewarding because visitors are friendly, curious and supportive.
"In this way, one can share their experiences, and this is a way of reaching for peace and harmony in the world," he said.
From start to finish, lamas incorporate numerous elements of symbolism in the mandala's construction. Perhaps the most striking process to Western thinkers is the artwork's dismantling.
After being consecrated, the colored sand is swept toward the center of the mandala and collected into an urn.
Believed to contain healing powers, it is then distributed among spectators and into a local river. Lamas believe water carries healing energies to the ocean, into the atmosphere and then to all lands of the world through precipitation.
The dismantling process also symbolizes the impermanent nature of all things worldly and the benefit of being spiritually and emotionally detached from them.
"Some students have been absolutely shocked to find out they're going to sweep it all away," Waquad said. "For it to take three days to make and then be destroyed - that's something."
But she and fellow student Josephine Njoh appreciated the value of the symbolism.
Njoh reflected, "Things that we think are so extremely valuable can come into our lives and then be gone in an instant."
To learn more about the lamas, their artwork and spirituality, visit www.mysticalartsoftibet.org.