The Jade Buddha, symbol of peace and harmony, everywhere but in San Jose
By Bruce Newman, San Jose Mercury, Sept 16, 2010
San Jose, CA (USA) -- The Jade Buddha for Universal Peace was seated upon his alabaster throne in a converted warehouse on San Jose's south side Wednesday afternoon.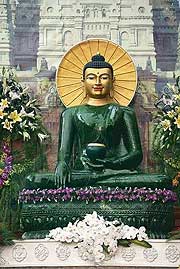 << The Jade Buddha for Universal Peace at Dai Tong Lam Monastery, Vietnam, March 2009. (The Great Stupa of Universal Compassion)
The 4 ½-ton jade carving had just finished a welcoming parade amid pageantry and a series of floats festooned with plastic flowers and signs advertising Lee's Sandwiches and Tran Dac Fine Jewelry Design.
At the midpoint of a two-year global tour, the holy green giant has been a symbol of harmony everywhere he's gone. Except San Jose, where a donnybrook erupted within San Jose's fractious Vietnamese-American community about which faction would be allowed to exhibit the holy relic.
Viewing of the Jade Buddha begins at 10 a.m. Saturday in an 80,000-square-foot building on Senter Road, where Tron Do once tried unsuccessfully to run a flea market. Do is the owner of a Vietnamese-language radio station on which Councilwoman Madison Nguyen appears regularly. The other eager bidder for the Buddha was Michael Luu, an attorney for self-styled anti-communist freedom fighter Ly Tong, one of Nguyen's fiercest critics during the 2008 Little Saigon controversy.
In his letter welcoming the Jade Buddha to town, Mayor Chuck Reed boasted to the Abbess of Ngoc Hoa Temple that San Jose would be the perfect place for the exalted gemstone to visit "because here in Silicon Valley," Reed wrote to Bhiksuni Tien Lien, "people choose to focus on what they have in common rather than their differences."
But Luu, who did not return calls seeking comment on the disposition of the cross-legged divinity, hoped to host the Jade Buddha in a building he owns on 10th Street. In violation of zoning regulations, he added a banquet hall to the industrial space and was holding large assemblies there when the city's code enforcement division finally took him to court. In the ensuing settlement, Luu was forced to quit using the building as a temple, code enforcement officer Michael Hannon said.
Luu told people he suspected that Nguyen had engineered the decision on Do's behalf. Nguyen, who is in the midst of a re-election campaign, expressed dismay that her name had been dragged into the rumors swirling around the Jade Buddha.
"This is really unfortunate," Nguyen said. "I'm not even Buddhist, so I don't have any allegiance to this event. When are these controversies going to end? I think it's very disappointing that people in the Vietnamese-American community are taking this opportunity to make a religious event political. They're supposed to bring peace to the world, and instead they're creating controversy."
Large crowds expected
The Jade Buddha drew throngs of more than 3.5 million during its 2009 tour of Vietnam and attracted an estimated 120,000 people last winter at stops in San Diego and Houston. In San Jose, with a Vietnamese population of roughly 100,000, the exhibition -- which is free to the public -- is expected to draw large crowds.
"The presence of the Jade Buddha has had a very positive effect on the millions of people who have seen it and, we believe, on all the communities that it has been in," said Ian Green, who organized the tour as chairman of the Great Stupa of Universal Compassion. "It is our wish that this same positive influence will be felt in San Jose."
He's not the only one wishing for that.
"We don't think we have a controversy at all," said Tien Lien, the Buddhist nun overseeing the visit, which is scheduled to continue until Oct. 1. With her beatific smile and neatly shaved head, Lien has an attitude toward all the name-calling that could be described as Zen.
"We pray for peace," she said as the great hall was readied for its jade avatar. "But people are different, so we cannot stop them from different thinking, different beliefs. Everywhere there are human beings there is disharmony, not just San Jose. As religious leaders, we're aware of everything that has happened. That's why we're trying to bring harmony and peace to the community."
Lawsuit threatened
One casualty of the crossfire is Thich Quang Bao, the monk of Di Lac Temple. Bao had contracted with the Great Stupa to bring the Jade Buddha to his temple on Story Road immediately after its current, slightly less holy installation. But according to the monk's attorney, Cary Pham, Green sent him an e-mail that was a little short on universal compassion, threatening to sue the monk for copyright infringement.
Bao had ordered jade reproductions of the Buddha, and other artifacts mined at the same location, to sell. He hoped to use the profits to pay off $20,000 in debt he incurred from printing and security in preparation for the temporary shrine. This attracted the attention of the Great Stupa of Universal Compassion, which had 14 tons of jade left over after commissioning the Buddha's carving, and had turned the miniatures -- with certificates of authenticity -- into a moneymaker. Profits are being used to defray costs of the tour and construction of the statue's permanent home in Australia.
As the Jade Buddha's promotional material helpfully explains, "These pieces of jade have been transformed into unique mementos of the Jade Buddha for Universal Peace which are available for a limited time at each tour venue."
Meanwhile, Bao has been denounced by so many members of his own community that he called a news conference last week in an effort to clear his name. And he is now that rarity among Buddhist monks, having felt the need to lawyer up.