Monk will discuss teachings and benefits of Buddhism
By Alicia Doyle, Ventura County Star, October 19, 2010
Ventura, California (USA) -- An American-born monk ordained in the Vietnamese Zen tradition will discuss how Buddhism can end unhappiness and bring peace when he speaks at 10 a.m. Sunday at the Ventura Center for Spiritual Living, 101 S. Laurel St. in Ventura.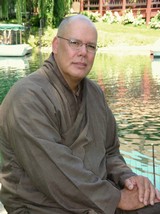 << Kusala Bhikshu
"The Buddha had two messages: why humans suffer and how to end that suffering," said Venerable Kusala Bhikshu, 61.
"Buddhism is all about humans and the way they experience the world, and because we are born with original ignorance and not original sin we misinterpret the world," he explained. "Buddha means one who is awake. So the Buddha woke up to human life, and for 45 years taught the path to end human suffering."
On Sunday, Kusala will talk about the historical teachings of the Buddha according to Theravada, considered the oldest surviving Buddhist school.
"A bumper sticker approach would be, 'Jesus saves — Buddha teaches,'" Kusala said. "So Buddha teaches us how to end our suffering; he can't save us from our suffering."
His free presentation in Ventura, geared toward all ages, will be "joyful," said Kusala, who also plans to play Buddhist folk songs on his ukulele. "We'll have stories and laughter — it will be fun and there will be humor. The idea is just to wake people up to the fact that life is pretty much the way it's going to be. But we have a choice and chance to change the way we experience it."
Kusala lives and works at the International Buddhist Meditation Center in Koreatown in Los Angeles, where he cares for the grounds and leads meditation and discussion groups. He gives presentations at high schools, colleges and churches on Buddhism and social action, and is the webmaster for the International Buddhist Meditation Center as well as his own site, http://www.UrbanDharma.org.
In 1998 he received the Good Samaritan of the Year award from the Los Angeles County Probation Department for his work in juvenile hall; he also spent a year as a volunteer at the Los Angeles County State Prison for men. Kusala is a member of the Buddhist-Roman Catholic Dialogue of Los Angeles, and director of the University Buddhist Association at UCLA. In 2000 he was invited to join the UCLA Medical Center Spiritual Care Committee.
"Suffering, at its most extreme, is wanting things to be different than they are," Kusala said. He noted the "eightfold path" that describes the way to the end of suffering: right view, right intention, right speech, right action, right livelihood, right effort, right mindfulness and right concentration.
"One of the problems with our suffering is our karma — karma creates our suffering," he said. "Karma, in its most simple explanation, is everything we think, everything we say, everything we do — and its results and consequences. Transforming the way we think, the way we speak and the way we act will ultimately end our suffering."