Gong xi fa cai: Buddhist temple to ring in the year of the rabbit tonight
By Hannah Cho Iriarte, Pacific Daily News, January 14, 2011
Guam, USA -- This new year symbolizes the calm after the storm. The explosive year of the roaring tiger filled with tumultuous ups and downs ends, releasing the year of the amiable rabbit. Like the days that follow a typhoon, this year's Chinese zodiac provides the recipe for perfect island living -- a temperate, happy and relaxed time.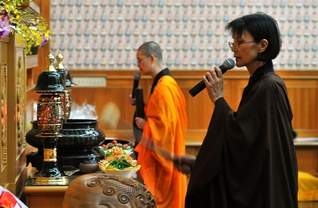 << A moment for prayer: Chrisitne Lee, a curator at the Fo Guang Shan Guam Temple in Macheche, Barrigada chants a special prayer in the temple in celebration of the last year's lunar new year. (Pacific Daily News file photo)
"It's a new time period, a new era. We can catch our breath after all the changes the year of the tiger brought," Wilson Ng of Hong Kong center says.
It is also a transitional year that flows into the year of the dragon, the year of hope.
Tonight the people of the Fo Guang Shan Guam Buddhist temple host a Lunar New Year Celebration known as "Wei Lu."
"Wei Lu literally means surrounding the pot," says Rich Huang, president of the board of directors of Buddha's Light International Association.
"It is very similar to the Thanksgiving and Christmas dinner in the Western culture where families get together for a feast," he says.
Everyone is invited to tonight's free event to experience some Chinese traditions.
"It lets people feel our Chinese culture," says temple member Brian Lee.
What you'll find
The vegetarian feast will begin as 6 p.m. followed by cultural entertainment and a prayer for world peace.
Two dance troops from Taiwan will perform, including the Dunhuang dancers. Chamorro dancers, graceful ribbon dancers and pounding African drummers will also entertain the attendees.
"The Chinese dancers are dressed up in very colorful attire with the hairdresses, very traditional. It's nothing the people of Guam have seen before," Lee says.
"Every year the Chinese have this event, it's a chance to meet up as the years transition," says Tungtsz Kwan from the Srimala Buddhist school for women.
Members of the school traveled from Taiwan to attend the celebration.
"We welcome all people, Buddhist or not, if you want to pray for world peace" Kwan says.
"This event will let everyone feel that we are a very big temple family. That's the main idea for this dinner," Huang says.