Celebrating a monk
Press-Telegram, Jan 16, 2011
Community recalls Khmer leader who helped Cambodians settle in Long Beach
LONG BEACH, CA (USA) -- The Rev. Kong Chhean was surrounded by a sea of orange, white and yellow flowers as hundreds paid their respects to the late Buddhist monk on Sunday.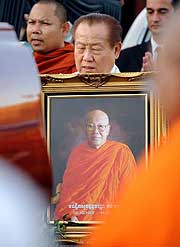 << A mourner holds a photo of the late Rev. Kong Chhean during a memorial service at the Khemara Buddhikarama. Chhean was remembered by the Long Beach Khmer community and leaders who worked with him to help the refugees from the Killing Fields find a place in Southern California. (Stephen Carr Staff Photographer)
They remembered him as a man who was devoted, compassionate and spiritual - a man who worked to help heal the Cambodian community.
Chhean, the well-known and beloved head monk at the Khemara
Buddhikarama Temple, died at Long Beach Memorial Medical Center on Jan. 7 after battling a series of ailments. He was 66.
Chhean's life was commemorated Sunday in a memorial service at All Souls Mortuary followed by a final Buddhist ritual service at Khemara Buddhikarama Temple, 2100 W. Willow St., which is popularly called Wat Willow.
Mourners dressed in white - the traditional color worn for Cambodian funerals - and monks swathed in vibrant orange robes filled the pews as Chhean was eulogized in both Khmer and English.
Among the crowd was Assemblywoman Bonnie Lowenthal, D-Long Beach, who knew Chhean for two decades and helped him tackle issues in the Cambodian community during her time on the Long Beach City Council.
"For me personally, Rev. Chhean was a friend," said Lowenthal, one of more than a dozen who shared their memories of the monk.
Lowenthal recalled Chhean's efforts to help young Cambodian gang members.
"He took them into the temple. He helped them with community service. He turned their lives around," she said.
Advertisement
Born in Cambodia in 1945, Chhean was ordained as a novice monk at 12 years old. He studied Buddhism and philosophy at Banaras Hindu University in India and received his doctorate in 1975.
Unable to return to his native country because of the Khmer Rouge, Chhean came to the United States in 1979 and set up his first temple in an apartment on Clarkdale Avenue in Hawaiian Gardens and his second in a home in Lakewood.
As more Cambodian refugees arrived in the U.S., Chhean began holding religious services at El Dorado Park.
In addition to leading his congregation, Chhean had a strong interest in mental health and worked with the Los Angeles County Mental Health Department to treat Cambodian refugees suffering from post-traumatic stress disorder.
He earned a master's degree in psychology at Pepperdine University in 1986 and a doctorate in clinical psychology in 1989.
Each year, Chhean raised funds and used his own salary so he could return to Cambodia and purchase hundreds of bags of rice for the needy.
"He frequently reminded us that when he is no longer here on earth, his one and only wish was for all of us to stay united and take care of the beloved temple that he dedicated himself to building," according to a biography read by community member Mala Soy in the memorial service.
"He wanted it to remain a Khmer Buddhist Temple, where we can preserve and conserve our Khmer culture for the next generation in America."