Punk Buddhist teacher tells spiritual truths in Truckee
by Andy Hill, The Sierra Sun, March 8, 2011
TRUCKEE, Calif. -- Buddhist teacher Noah Levine came to Truckee to talk about his painful and dark journey through drug and alcohol addiction, anger, depression, suicide and incarceration into Buddhist practice and meditation.
<< Noah Levine, angry punk rocker turned spiritual mentor, is captured in a contemplative moment during his presentation at For Goodness Sake in Truckee.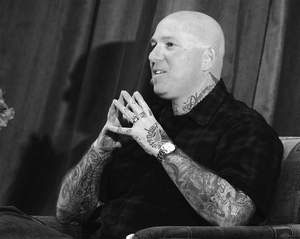 Levine addressed a large and very diverse audience, starting with a short guided meditation, during which someone's cell phone called out, "You have a message from the dark side," which got everyone laughing. He then went on to talk about the benefits of meditation, getting quiet and concentrating on the breath, instead of on our thoughts.
Although Levine practices Buddhism, his message was universal and offered useful, practical methods for overcoming many of the psychological issues we all face in dealing with the world. At the end of his talk he encouraged people to seek out the kind of spiritual practice that works for them and to persevere with it rather than just simply believe all he said.
Levine's journey out of his problems certainly wasn't an easy one, but he applied the same passion and dedication to his practice as he had to his prior rage at the world. It took him a long time to find peace and to be able to view the world and other people with compassion, kindness and understanding. But with regular meditation he did succeed, and has done a lot of teaching and counseling for incarcerated youth and young people in recovery. He is an author of three books, (see below for titles), and also the founder of the "Against the Stream Buddhist Meditation Society" in southern California.
Levine's visit and presentation was sponsored by For Goodness Sake, a non-denominational spiritual community center located in Downtown Truckee. For Goodness Sake plans to bring Levine back later in the year for a more in-depth training workshop. You can contact For Goodness Sake at 530-550-8981, info@goodnesssake.org, and www.goodnesssake.org
Levine's books include "Dharma Punx," "Against the Stream," and "The Heart of the Revolution." For more information visit www.dharmapunx.com and www.againstthestream.com.