Buffaloland Park and animal sanctuary flourishing under Buddhist ownership
by Mitch MacDonald, The Guardian, November 9, 2014
Andy Fitzpatrick looks after more than 150 animals at Buffaloland Park and animal sanctuary
PRIMROSE, Canada -- Andy Fitzpatrick is a man who loves animals and his job.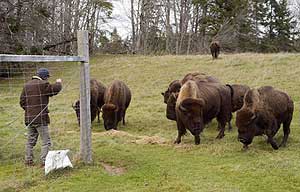 Fitzpatrick, who isn't picky on his title as either caretaker or animal maintenance worker, takes care of a number of animals for the International Moonlight Foundation in a sanctuary located in Primrose.
The sanctuary is a rescue centre that sees many animals donated, especially horses, who may have otherwise been put down.
"Any animal that comes here lives out their natural life until they pass on, they never get sold, they never get shipped. They're safe here," said Fitzpatrick. "I love my job. I was born and raised on a farm and I still live on a farm."
The job began a few years ago when Fitzpatrick was hired by the foundation, a Buddhist non-profit organization, to do some carpentry work and take care of a few animals at the sanctuary.
In a few short years that responsibility has grown into looking after 50 horses of all different kinds, about 70 head of cattle, two llamas, three ducks, cats and a dog.
And that's not considering the approximately 35 buffalo Fitzpatrick also tends to at the Buffaloland Park, which is also operated by the foundation.
"If you add it all together, it's a lot of animals to take care off, there are a couple helpers by times," said Fitzpatrick.
The provincial government announced the intention to sell Buffaloland Park in 2012 because of its cost to taxpayers, which was between $11,000 to $40,000 annually.
When no one offered to purchase the land, the foundation stepped forward with a proposal to take over the herd management and maintenance costs of the property.
That agreement was finalized this past April.
Since then, the park has seen a new handling facility, new fencing and provided all the buffalos with a complete de-worming treatment.
The project has also seen approximately $50,000 towards local Island contractors and businesses.
In Fitzpatrick's eyes, the agreement has been "a great thing" for the animals.
"The Island government didn't see fit to keep them I don't know why," he said. "I think it's a terrific thing. The foundation stepped in and we can actually keep the buffalo ... without them they probably wouldn't be here."