Prince Edward Island Buddhist community gives tribute to neighbour
by Steve Sharratt, The Guardian, December 08, 2014
WOOD ISLANDS, Canada -- Not everyone gets such a notable tribute, but in the eyes of Prince Edward Island's (P.E.I) Buddhist community, he was better than Google.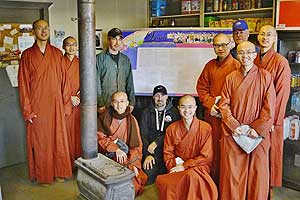 << Venerables Xing-You, left, Xing-Hui, Xing-Xiao, (squatting), Xing-Gong, (squatting), Xing-Zhu, Xing-Yi, and Xing-An are joined by Doug Panting, third left, Billy White, (squatting), Earl MacLeod, third right, as they display a merit board presented by the Buddhists in honour of a local man who helped them settle on the Island.
And the monastic members from down the road turned up here recently to erect a merit board in remembrance of their friend.
In a stark contrast of shaved heads and saffron robes against concrete floors and black wood stove, the young monks posted their tributes and paper cut out flowers, like Jianzhi, on the merit board.
"We would like to extend our heartfelt gratitude to Lorin for helping us to settle on P.E.I . . . without him, all we have here today could have been very different."
The merit board takes up an entire corner in the rural garage and repair shop where Lorin Panting fixed cars, towed vehicles and regularly dispensed advice.
He passed away last month at age 87, but his lasting impression on the Buddhist community is palpable.
Panting's Garage is located in southeastern P.E.I., east of the ferry terminal and along the shore road where the Buddhist monastery was built barely a kilometre away.
So it was understandable the local source for community news and opinion was the place to go for a stranger in a strange land.
"We got to know them all pretty good over the years,'' says Panting's son, Doug, who runs the garage. "They'd always be coming by for help and Dad always enjoyed giving them a hand."
The young monks arrived at the monastery from all over the world and most of the volunteers are Taiwan-based.
So coming to P.E.I. was a big adjustment, not only with the language, but where and what to buy, and how to keep the furnace running and the car on the road.
"Everyone liked to go to the garage for a heart to heart with Lorin,'' says one tribute piece. "He was more reliable, informative and efficient than Google."
The elder Panting got to know many of his new neighbours very quickly since he operated the local tow truck service.
"He told us we needed to improve our driving skills and would even teach us,'' says another posting. "He taught us what vehicles to buy and the need for snow tires . . . and how not to roll into ditches."
The merit board offers a story of how Panting told the Buddhists they could get lobster cheaper from the fishermen rather than the food stores.
And (since Buddhists respect all life) he advised them of the best locations to release the crustaceans.
Panting had a long-time knee problem and couldn't raise his feet. So the Buddhists invited him to visit the monastery doctor where his problem was solved.
"Lorin, our neighbour, was like an entry pass to P.E.I. and he had a solution for every problem. Although it seemed like such a wonderful coincidence that he lived next to the monastery; in Buddhism we believe nothing arises without a cause."
The merit board also acknowledged that Panting often visited the monastery and even studied Buddhism for six months.