Buddhist monks reveal simple life in Little Sands, Prince Edward Island
CBC News, Mar 26, 2015
Great Enlightenment Buddhist Institute Society holding open house to share with public
Prince Edward Island, Canada -- A group of Buddhist monks has made their home on P.E.I. for the last seven years and Islanders know little about them.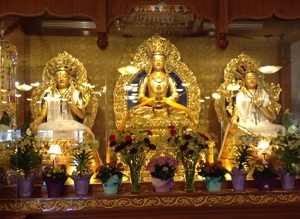 But that is about to change.
On Saturday, the Great Enlightenment Buddhist Institute Society is holding an open house at their monastery in Little Sands in the eastern part of the province.
The monks live a simple, disciplined life, with very few possessions.
They sleep 10 to a dorm room and they eat two meals a day, both vegetarian.
Most of the day is spent in prayer or class.
The institute is a training centre for monks, mostly from Asia, to become leaders and to teach others to be compassionate and kind.
"Basically they become a better person, so that with their learning they can share their experience to other people, so they also can become a better person, and also more altruistic," said president, the Venerable Liu.
At the open house, visitors will see a large prayer hall that can accommodate 500 people and features gold-plated Buddha statues
Expansion planned
The monks will also display of some of their Buddhist teachings and exhibit traditional hobbies such as art, writing and elaborate sculptures made out of butter.
"So far, they feel very blessed to have this environment and have been making a lot of progress in their study, so they are happy and grateful and they would like to extend their appreciation," said Geoffrey Yang, the institute's executive secretary.
The monks say the land and the buildings cost about $10 million. The monastery is funded by a non-profit foundation that accepts donations.
The institute plans to expand in future to accommodate more people.
The open house will take place Saturday from 9:30 a.m. to 4:00 p.m.
The monks say they plan to hold open houses more frequently in the future.