Prince Edward Island Buddhist monks repay kindness with soup kitchen help
CBC News, Feb 27, 2016
Staff at the Upper Room Soup Kitchen welcome the help and donations
Prince Edward Island, Canada -- As a way to give back for the kindness they've been shown by Islanders, Buddhist monks are spending one day a month preparing a meal at the Charlottetown soup kitchen.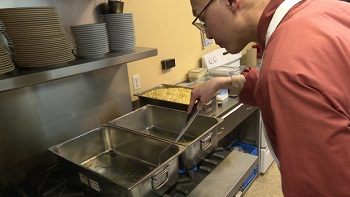 << The Great Enlightenment Buddhist Institute Society on P.E.I. donates and prepares the meal once a month at the Upper Room Soup Kitchen in Charlottetown. (CBC)
The members of the Great Enlightenment Buddhist Institute Society on P.E.I. bring all the food to the Upper Room Soup Kitchen and cook it for those who need it.
"This is part of the Island culture and we're learning, trying to be part of the Island, and also this is a way for us to practice our Buddhism, to put our ideals into practice," said Venerable Dan.
"When you see the smile and then, there's no language barrier. There's no cultural barrier when giving out your hand, helping hand and I think that's a universal language."
Venerable Dan says they have received a lot of help from Islanders and want to give back.
"How to drive, how to dress up warm, and how to stack up the lumber for the fuel during the winter and when the power goes out they'll come to rescue us."
The staff at the soup kitchen appreciate the donation of food, and they enjoy having the Buddhist monks help them out.
"Honestly, when they first came, you know like when I heard they were coming, I was like 'oh what we expect, it's vegetarian, how are my clients going to react to that' and I wasn't too sure but after I got to meet them a few times, oh my god, they are awesome. They're wonderful with the clients," said chef Makena Tarichia.
In addition to sharing kindness and food, the Buddhist monks are sharing their culture as well. They introduced steamed buns to the clients at the Upper Room Soup Kitchen.