Burnaby, B.C., orders Buddhist monk to tear down $300,000 temple because he doesn't have permit
by Gordon McIntyre, Postmedia News, March 6, 2016
BURNABY, B.C. (Canada) -- Build it and they will come. Building inspectors that is, and if you don't have a building permit and your land is zoned for agriculture and you've built a temple, city hall will want you to tear it down.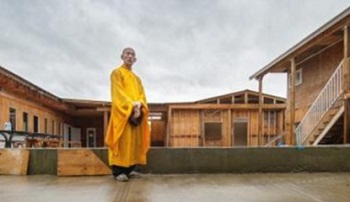 << Le Thuan stands on the site where the City of Burnaby has ordered demolition of a temple and other buildings.
You need a permit, by the way, to tear it down. Le Thuan, a Buddhist monk who fled Vietnam for a refugee camp in the Philippines in 1988, moved to Canada 27 years ago, settling in the Lower Mainland.
In 2002, he bought some land in Burnaby for $950,000.
Thuan started adding structures behind the house and next to some existing outbuildings. He built a temple, a hall and a dining room, and installed plumbing and wiring.
The Vietnamese Unified Buddhist Congregation of B.C. would draw 100 or so people for weekend services, Thuan said. For special events, 1,000 could show up.
But someone told Burnaby's building-permit section about the construction late in 2014 and inspectors showed up early last year. They found safety and health concerns and unpermitted construction.
Thuan was told he had to tear it all down, with the city turning off the power until the work is carried out to the city's satisfaction.
The city further took Thuan and his congregation to court after it determined what little demolition there had had been was half-hearted and done without a demolition permit.
"It's a big problem," the 58-year-old monk said. "I work here. I lived here until it got too cold (with no power)."
Now he rents in Chilliwack, 100 kilometres away. The property, near where south Burnaby meets the Fraser River, is dotted with impressive Buddhist statues.
It is also full of neatly stacked building supplies and materials of the sort you'd need if you were building a temple, a mess hall and a place to meditate and chant.
Inside a shed toilets are stored, still in plastic wrapping.
Doors, outdoor gas-heaters, hot-water tanks and sinks sit in neat stacks beside a long row of cedar and bamboo that marks the estate's boundary. The Maple Leaf, with a Heritage Canada stamp on it, is tacked above a door, inside of which sit piles of siding.
A backhoe and Bobcat sit in the yard, while a raised patch of ground keeps the organic blueberry crop safe from the bog the rest of the land can become in wet weather.
Thuan sells his modest harvest during the summer to help raise money for his temple.
The blueberries are the closest thing to agriculture on Thuan's patch of the Agricultural Land Reserve, and the properties around him. He tried to get permission from the Agricultural Land Commission to change his designation so he could subdivide the property for mixed agricultural and temple use, but the City of Burnaby was against it.
Barely 100 metres from Thuan's far-more modest Unified Buddhist structure is the Evangelical Chinese Bible Church. Not far from it is the Philippine-rooted Iglesia ni Cristo. Less than 200 metres in the other direction there is a big Hare Krishna temple.
There are also a nearby golf course and ball diamonds.
So much of the surrounding land is used for anything but agriculture.
The City of Burnaby declined to discuss Thuan's case, citing the long legal battle between the two parties and the fact that Thuan and his congregation have been granted a 120-day extension to demolish the temple.
Thuan, who spent upwards of $300,000 on construction and will be on the hook for $120,000 in demolition costs — sums raised by his congregation — still wants his temple.
"There is a temple there and a temple there," he said, waving his hands at the nearby houses of worship and contemplation, structures far bigger than anything Thuan planned. "Demolishing everything breaks my heart.
"But, yes, I will take it all down, I have got my permit to do that."
He put the land up for sale, asking $9.8 million, and had no offers. He has since lowered his asking price to $7.8 million.
The 2016 assessment valued the property at $4.7 million.
If Thuan can sell, he would like to buy a disused church and convert it into a Buddhist temple.
But he sees a far simpler solution. "I would like to have a temple here and still farm the property," he said.
"That to me seems fair."