Public tours spectacular Buddhist temple near Omemee
By Lance Anderson, Peterborough This Week, June 25, 2016
Omemee, Ontario (Canada) -- The Wutai Shan Temple is located in Cavan Monaghan Township but the "driveway is in the City of Kawartha Lakes," laughed Diane Chen at a presentation and tour for dignitaries on Monday (June 20).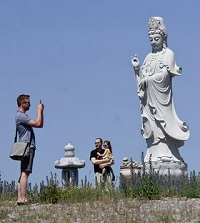 << The public had a chance to look at a Buddhist Temple under construction near Omemee on Saturday (June 25).
The Temple is the first of the Buddhist Association of Canada Cham Shan Temple's project to build four Temples that mimic the sacred Temples in China.
Ms Chen, who is Cham Shan Temple's property development and project manager, said the Temples will take at least 20 years to build, as they are funded only by donations.
The Buddhist Association of Canada purchased about 1,700 acres of land years ago for this purpose. The Wutai Shan Temple, on 530 acres is the first to be built and the remaining three are planned for Manvers Township.
Representatives from Cham Shan Temple have also been among those trying to prevent an industrial wind turbine project (Sumac Ridge) from being built near one of the planned Temple sites.
Ms Chen praised City of Kawartha Lakes Ward 16 Councillor Heather Stauble for her support; not only against the wind turbines but to bring the Temple and the economic growth potential it represents to the City. "She has been with us from day one," Ms Chen said.
Ms Chen explained that Buddhism is not a religion but a way of life; that people of all faiths are welcome to visit the Temple for meditation and solitude. She explained the four Temples in China, built on "sacred mountains" are world-famous, as is the Temple architecture. Built of wood, the construction uses an ancient technique - "a dying art," said Ms Chen - that uses interlocking brackets with no nails.
The process has been used for about 1,000 years.
In China, the pilgrimages cover miles of roads and arduous climbs that many cannot physically complete. The idea, Ms Chen said, was to build four similar Temples on a smaller scale.
"We could have chosen anywhere, but we chose here," she said of the area's natural beauty. "It is an amazing project but it will take years, even among the long-living Chinese."
She explained that the Temple is not just for those wishing a spiritual retreat. Everyone is welcome to spend time enjoying the natural beauty and solitude.
"But, there are no accommodations; we will need families willing to host visitors, bed and breakfasts, restaurants with vegetarian food (Buddhists do not kill anything for food)," she explained. "There will be nowhere else like this outside of China."
She said when built, each Temple could attract visitors who may not have the resources to go to China, and there are millions of people who, while they may not practice Buddhism, follow its principles.
The Wutai Shan Temple is Phase One of the project and is in various stages of construction; some of the meditation sites are in place and the Temple itself is in place, including giant statues of Buddhist figures. It is expected to be completed in about three years, and the Buddhists are fundraising for the main building.
Outside every Temple, Ms Chen said, is a "happy Buddha." The statue coming to Wutai Shan will be in 72 pieces due to its size and weight - the head alone weights 26 tons and is due to arrive this summer.
"We had to chop him up and we'll have to put him back together," laughed Ms Chen. "I hope the superglue holds."
Coun. Stauble said people who practice Buddhism would move to the City to access the Temples, and Ward 15 Coun. Mary Ann Martin said Wutai Shan "has put Omemee on the map."