Sunflowers brighten up P.E.I. thanks to Buddhist Monks
By Natalia Goodwin, CBC News, Sep 3, 2016
'We just thought it's a great way to bring in some sunshine into everyone's life,' says monk

Prince Edward Island, Canada -- Close to 50 businesses are a bit brighter on P.E.I. this week, all thanks to the monks at the Great Enlightenment Buddhist Institute Society.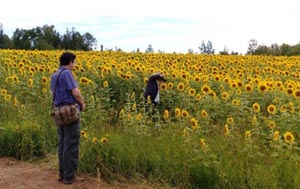 << Monks invite public to pick from the sunflower field
They've given more than 5,000 sunflowers from their field to local businesses to pass out for free. It's part of their ongoing effort to do good in the community, said monk Venerable Dan.
Buddhists Monks
Venerable Dan says the monks couldn't stand the thought of the flowers going to manure. (CBC/Jessica Doria-Brown)
"People are just so happy to see sunflowers, I guess just the magic in these flowers. They just make people happy...I think it symbolizes there's always hope," he said.
"We just thought it's a great way to bring in some sunshine into everyone's life."
But the sunflowers almost didn't make it to the arms of Islanders. They were originally grown for green manure for the monk's farm.
"As soon as we heard they were going to be used as green manure, we looked at the flowers and we thought this is too beautiful to be used as manure," Dan said.
Instead, the monks opted to share the flowers with Islanders for a weekend.
Colin Scales took some for his shop, Blue Ribbon Pet Supply. He said customers were surprised when they first saw them.
"Well first reaction is, 'why do you have sunflowers in your store?' And then I give them the booklet that they gave us about Buddhism," Scales said.
"I love sunflowers. They kind of bring a smile to your face, brightens up customers days."