Buddhist nuns 'learning to fit in' on P.E.I.
By Shane Ross, CBC News, Nov 21, 2016
P.E.I. now home to 134 Buddhist nuns — and the number is growing

Prince Edward Island, Canada -- Prince Edward Island is becoming home to a growing number of Buddhist nuns, who say the Island is a comfortable place for them to practise their spirituality.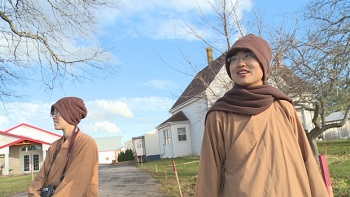 << The nunnery resembles an old farm house, but the nuns plan to move to a building in Brudenell styled after a more traditional Chinese temple. (Laura Meader/CBC)
Four years ago, 13 Buddhist nuns moved to the Island from Taiwan. Today, there are 134 at their home on the Uigg Road in eastern P.E.I.
In the next couple of years, they hope to attract about 100 more and move to a new building that will be modelled after a traditional Chinese temple.
"Canada has a great acceptance of different cultures and religions," said Yvonne, one of the nuns at what is called the Great Wisdom Buddhist Institute.
"It is a very good environment to practise and study here, that's why it will attract more nuns from other countries."
The majority are from Taiwan, but some are from Singapore, New Zealand, United States and Canada. The average age is 25.
They give up their last names, and devote their life to studying Buddhist teachings with the goal of bringing happiness and peacefulness to the world.
Separate from monks
The nuns say they are often confused with a group of monks that moved to P.E.I., but while they follow the same spiritual teacher, they are separate in the same way churches on P.E.I. would be independent of each other.
They will sometimes see the monks at functions, but they can't make eye contact with men, or be alone with men. The idea is to avoid distractions to maintain focus on their devotion.
They all wear the same clothes, and shave their heads, too.
"I don't have to think about what hairstyle I have to have today," said Yvonne, "So it's just very simple. Everything I do is just to learn every single day."
Sabrina lived in California before she came to P.E.I. She said she had an ordinary life before coming to the nunnery, but felt something was missing.
"I would often hear the saying that the best years in life are high school, or the best years of life are in college ... and it would always puzzle me that then what do you do after the best years in your life are over?" she said.
Yvonne said the nuns are "learning to fit in" on P.E.I. She said they go out more in P.E.I. than they would in Taiwan because they are trying to learn more about the Island culture.
"We are here to practise Buddhism but we are not trying to convert everyone's religion into Buddhism. So one thing we can do in the community is go visit the elders and see if we can learn more about what Islanders think and maybe other religions and how they make contributions to the community and how we can work together to make the community better."
She said the best way to learn from Islanders is to become friends with them.
"The Islanders will teach us the way of life here, even from winter tires to how you drive in the snow and how you can shop and utilize local resources."