Ceremony marks beginning of 3-day Buddhist union
By HOLLY FRAUGHTON, The Chronicle Herald, June 10, 2006
Halifax, Nova Scotia (Canada) -- Clad in shiny raincoats and wielding umbrellas, Nova Scotians young and old huddled together atop Citadel Hill on Thursday afternoon, braving bitter cold and wind to begin celebrating a royal Buddhist union.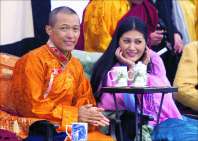 << Sakyong Mipham Rinpoche, the spiritual leader of the Shambhala Buddhist movement, and his bride-to-be Tseyang Palmo prepare for the firing of the cannon to close their lhasang ceremony in the parade square at Citadel Hill.(Eric Wynne / Staff)
Organizers showcased a traditional Buddhist ceremony, the lhasang, with an original twist: they incorporated a Mi'kmaq sweetgrass ceremony and a Highlander procession with the Tibetan purification rituals.
The event kicked off the three-day Blossoming of the Sun wedding festival of Sakyong Jamgon Mipham, leader of Shambhala Buddhism, and the Tibetan princess Tseyang Plamo.
Martin Janowitz, warrior general of Shambhala and master of ceremonies of the lhasang, said this multicultural approach to a lhasang is unique and represents the "tapestry of all the pieces that have gone into Shambhala Buddhism."
The sound of the Highland band's drums and bagpipes mingled as the procession of royal family members and dignitaries were led into a semicircular area lined with flags from around the world.
A firepit in the centre of the area was used for a Mi'kmaq six-direction tobacco offering and the burning of juniper branches, which are supposed to purify the environment. During the purification ceremony, the crowd chanted a wedding blessing the groom wrote for the occasion.
Emily Sell, press officer for the event, said the rain that came immediately after the lhasang was an "extremely auspicious sign," explaining that sending smoke up invites blessings to come down.
The bow-maker for the emperor of Japan, Kanjuro Shibata, had planned to give an archery demonstration at the lhasang but because of the inclement weather decided to present the couple with the gift of a bow instead.
Red-robed members of the Gampo Abbey monastery in Cape Breton played horns and cymbals intermittently during the ceremony as smoke blew over the crowd.
Susan Corning and Bernita Purcell, members of Halifax's Buddhist community, attended the lhasang and are excited about the union.
"It's the joining of these very auspicious families together, and joining it with the Nova Scotia traditions, which is fabulous," Ms. Corning said.
She said she began meditating about 15 years ago and is now a student of Sakyong Mipham. Both women plan to attend the wedding on Saturday afternoon.
The lhasang also attracted members outside the Buddhist community. Deirdre Evans brought her two young children, Oscar, 2½, and Thomas, seven months, to help broaden the boys' horizons and expose them to a variety of religions.