Dalai Lama to build education centre
By Douglas Todd, The Vancouver Sun, September 6, 2006
Vancouver, Canada -- The Dalai Lama - who will make his fourth visit to Vancouver on Friday to establish the world's first educational centre in his name - has an affinity for British Columbia and Canada that goes back to the early 1960s.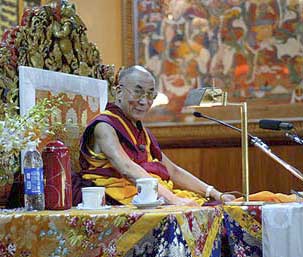 That's when Vancouver writer George Woodcock and his wife, Ingeborg, trekked to India to meet the leader and begin a life-long effort to support Tibetan refugees who had been forced to flee their country because of Chinese occupation.
"The Woodcocks were the first westerners in the world to form a close relationship with the Tibetan people and the Dalai Lama. They were pioneers," said Victor Chan, a Vancouver-based friend of the Dalai Lama who co-authored a book with him titled The Wisdom of Forgiveness.
For the past 40 years the Dalai Lama's bonds with Canada have deepened, particularly after the federal government this summer made him only the third foreigner in history to be given honorary Canadian citizenship, a tribute that offended some Chinese officials.
Now, the Dalai Lama, 71, a Nobel Peace Prize winner who is the exiled spiritual and political leader of Tibet, is coming to Vancouver to take part in a series of dialogues with noted mental health specialists and educators, corporate executives and spiritual leaders, including best-selling spiritual writer Deepak Chopra.
"He has this very significant relationship with Canada, which became even stronger in 2004 when he came to Vancouver for discussions with other Nobel Peace Prize recipients," Chan, key organizer of the Dalai Lama's visit, said Tuesday.
"He has developed a very strong rapport with the people of Vancouver. He has always thought that Canada and Norway were middle-power countries that could be a very significant force for doing good."
The Dalai Lama had to cancel a trip to France and Finland this summer because of exhaustion, but he is determined to be in Vancouver from Friday to Sunday to formally announce the $60-million Dalai Lama Centre for Peace and Education.
Half the money for the centre has already been provided by three anonymous donors. Although he says he can't reveal details, Chan is currently negotiating with the provincial government to confirm a downtown Vancouver location for the non-religious gathering place, which will include a cafeteria and library and sponsor public talks on a range of subjects related to education and personal transformation.
"The Dalai Lama could have located his educational centre anywhere. It could have been in the U.S., where he has close friends in [actor] Richard Gere. It could have been in India, where his government-in-exile is located. It could have been in London. But it's not. It's here," Chan said.
"Vancouver is perfect for the Dalai Lama's educational centre because it is such a confluence of Eastern and Western wisdom traditions. As a result of the centre, he is committed to coming back to Vancouver on a regular basis," said Chan, who has been friends with the Dalai Lama for 30 years.
The Tibetan Buddhist spiritual leader first visited Vancouver and the Woodcocks in 1980 (before he won the Nobel Prize in 1989), returning again to greater acclaim in 1993 and 2004.
More than 2.2 per cent of British Columbians reported in the most recent Canadian census they are Buddhist (compared to one per cent of all Canadians), which is a greater proportion than those who say they're either Muslim or Jewish.
In addition, almost one-third of the Greater Vancouver population is ethnic Asian. However, Chan emphasizes the Dalai Lama's appeal in Canada and the world goes far beyond Buddhism.
By stressing simple-sounding spiritual goals such as happiness and peace, the Dalai Lama has transcended religious categorization. A Vancouver Sun poll in 2004 found the Dalai Lama the most-admired spiritual leader among British Columbians, just ahead of the late Pope John Paul II.
The Dalai Lama's brother, Tendzin Choegyal, also has close ties with B.C.
In addition to frequently visiting Greater Vancouver to give talks and teach, Choegyal is on the advisory board of Vancouver's proposed Dalai Lama Centre for Peace and Education.
Choegyal is joined on the advisory board by three Nobel Peace Prize winners, including Iranian civil rights activist Shirin Ebadi, South African Archbishop Desmond Tutu (both of whom were in Vancouver with the Dalai Lama in 2004) and former U.S. president Jimmy Carter.
Tickets for some of the Dalai Lama's events in Vancouver are already sold out, including the Friday morning session at the Orpheum with high school students and Canadian human rights activist Mark Kielburger, head of Free the Children.
Despite some ticket prices running to more than $100, Chan said he will consider himself fortunate if the Dalai Lama's weekend visit breaks even financially.
It has been costly, he said, to bring so many many big-name speakers to the Vancouver events. (For the full list, visit www.dalailamacenter.org.)
The Dalai Lama's Friday afternoon forum at the Orpheum features Canadian and international specialists on how to combat aggression and raise strong citizens through ethical education, as well as Tim Shriver, chairman of the international Special Olympics Committee and brother of Maria Shriver, wife of California Gov. Arnold Schwarzenneger.
Chopra, who has sold millions of copies of his spiritual self-help books, will on Saturday join a dialogue at the Orpheum with prominent U.S. psychological researchers, including Sonja Lyubomirsky, who contributed to a much-discussed Time magazine 2005 cover story on the roots of happiness.
In addition to taking part in private, invitation-only conferences with prominent business and social leaders during the weekend, the ever-busy Dalai Lama will be the key speaker at a late afternoon gathering at GM Place on Saturday. "He has quite a hectic program," Chan said. "For a 71-year-old, it's quite exhausting. But people expect a lot of him and he does what he can to meet their needs."
FRIDAY
Nurturing Compassion: Small group of local high school students discuss courage and compassion, Dalai Lama answers questions.
Educating the Heart: Leading educators, researchers and policy makers discuss themes of cultivating compassion and educating the heart with Dalai Lama.
SATURDAY
Happiness and Stress as Determinants of Mental Health: Morning and early afternoon sessions at GM Place.
Cultivating Happiness: "Causes and conditions for happiness and guidance on developing an authentic sense of well-being". This is the main event, from 3:30 p.m. to 5 p.m.