Bonding the key, Dalai Lama says
by Michael Scott, Vancouver Sun, September 8, 2006
Vancouver, BC (Canada) -- The Dalai Lama believes he has the key to a happier world, and it has nothing to do with political process or balance of power. The Buddhist spiritual leader, who arrived in Vancouver Thursday for a three-day visit, said the force that brings the deepest satisfaction to the world is the tender embrace between mother and newborn child.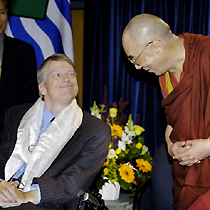 << The Dalai Lama shares a moment with Vancouver Mayor Sam Sullivan at city hall on Thursday.
Photograph by : Bill Keay, Vancouver Sun
"I am now 71 years old [but] I feel, still, deep in my mind, my first experience, my mother's care. I can still feel it," the Dalai Lama told a small audience at city hall, after a private meeting with Mayor Sam Sullivan.
"That immediately gives me inner peace, inner calmness," he added.
The challenge in modern society is to hang on to that deep sense of connection later in life. "When we grow up, when our brain develops, then our intelligence causes short-sightedness," he said. "And I think also the influence of the environment [plays a role]: then aggressiveness, fear, jealousy, anger, frustration -- these things arise, and [cause our potential to] become submerged."
The Dalai Lama said his No. 1 priority is to promote this quality of human bonding, a force he calls "human value."
"After birth, our first experience is mother's affection," he said. "Mother's care. The child at that time, just after birth, may not have the idea 'This is my mother.' But [will have a connection] because of the biological system or need, feeding, relying on that person. And on the mother's side there is also that sort of tremendous feeling of care -- and with that milk, also comes [the connection]. This is not due to religious faith, but because of the biological factor. That is the basis of our life breath, how our life started.
"So, now the time has come, I feel, that as a result of discussion -- of exchange, different ideas, different views -- and as a result of listening to others' problems, and noticing the global-level problems, including terrorism, I feel, if we make more effort to sustain our basic value, I think humanity may become more peaceful. More compassionate. As a result, differences can be easily solved through dialogue. Through talk. Through mutual understanding. So that is my number-one commitment: the promotion of human value."
The Nobel Peace Prize laureate is in Vancouver for three days of public discussions and events around the inauguration of an education centre being built here in his honour. During his first stop, at city hall, he answered a wide range of questions with humility, insight and humour.
Smiling at a mannerly scrum of reporters and photographers, the Dalai Lama expressed his admiration for the media, and then grinning broadly, explained how he often says that reporters should have long noses like an elephant's, miming a long trunk-like proboscis that gently snuffled at his interpreter's elbow. "[You need a nose like this to] smell everywhere, he said to sustained laughter. "I think, with respect [to Mayor Sullivan], you should use it to smell politicians, mayors, prime ministers, religious heads, businessmen, scientists. I think everywhere. I think we should know the reality."
The 14th Dalai Lama was awarded honourary Canadian citizenship this summer, a rare distinction granted only twice before -- to Nelson Mandela and Swedish diplomat and Second World War war hero Raoul Wallenberg.
At the time, the Chinese government made its disapproval clear, with a sharp comment from an embassy official in Ottawa. "We said that Dalai Lama is a separatist, so I don't think he should be honoured with that," Chinese diplomat Zang Wei-dong said. "That will harm the Canadian image and also harm the relationship between China and Canada."
The Dalai Lama, who left Tibet with a 100,000 followers in 1959 to establish a government-in-exile in India, was asked about those comments.
He suggested that China's bark in this regard is sometimes worse that its bite, citing a situation where Norway was criticized for its dealings with him. "I think on one occasion . . . the Chinese government made some serious protest. But then afterward, not much consequence," he said.
"But, I'm very sorry. Wherever I go, it always creates some inconvenience. I'm very sorry. But hopefully, not [by] my mistake."
He drew more laughter when he wondered aloud what the rights and privileges of being an honourary Canadian might include, because, he said, smiling, he didn't want to miss out on any.
He turned serious when he said that being an honourary Canadian made him feel as if he were being treated like a brother by Canadians. "Actually, entire six billion human beings are brothers, sisters. You have to share, our common world, our one world.
"I think the time has come: We must educate in that respect. These quarrels here and there, in the name of religion, in the name of different races, different countries, different political system, economic system. Fighting [is] useless. Suicide."
Before China exerted its territorial claim to the ancient mountain kingdom, the Dalai Lama was considered by his subjects to be a god-king, the living embodiment of compassion in the world. His struggle to preserve Tibetan culture was taken up 40 years ago by the late George and Ingeborg Woodcock, two prominent Vancouver intellectuals. He has made three previous visits here, in 1980, 1993 and 2004.
Since taking up exile in Dharamsala, India, in 1959, the Dalai Lama has made education a priority, both to preserve Tibetan culture against a dangerous and uncertain future; and as a way to reach out to the world.
Of Tibet's current population of 300,000, about 200,000 are ethnic Chinese, resettled there by China, since 1959. "That means we have already become a minority," the Dalai Lama said. "As a result those Tibetans in the towns, in their daily life, they use Chinese language more, in shops, in restaurants, in addition to the government official language. On every occasion they have to speak Chinese. And then music, songs, also now more Chinese. Also, I've heard that Tibetans are very fond of Indian popular songs. So their way of life and also their [cuisine], eventually their mentality, their way of thinking, these are changing.
"So usually I [say], whether intentionally or unintentionally, some kind of cultural genocide is taking place.
With what he sees as a decline in the moral authority of organized religion in the West and in the effectiveness of the family, the Dalai Lama believes it is up to schools to look after the spirit of warm-heartedness he advocates.
"In modern times, the influence of the church has a little bit declined," he said. "And family value also [is] declining. So now education institutions should take full responsibility, not only for brain development but also for morals and ethics."
The challenge comes when the development of a young person's ethical outlook becomes tied up with religious belief. "The question [then] is what religion [to chose]," he says. "Difficulties. And also, frankly speaking, there are quite a substantial number of non-believers. So I think the mistake is that those people who have not much interest in religion are also negligent about the value of spiritual qualities such as love, compassion, forgiveness, these things.
"So we must now find a different way, on the basis of scientific findings and our common experiences. I think that on this basis we can educate. [Certainly] brain development very important. [But also] warm-heartedness, is extremely important. Otherwise [you will find] a very educated, very brilliant person, but deep inside a very unhappy person. And also billionaires, or leaders, big power, big money, good education, big fame. But as an individual person, very unhappy."
"Sufficient money, sufficient power, sufficient affairs, sufficient friends, but still unhappy. Why? Something is wrong here."
- - -
SCHEDULE
The Dalai Lama is scheduled to make several public appearances in Vancouver today and Saturday, with tickets available for most of those events. Visit www.dalailamacenter.org for more information.