Centre of the universe found in a meadow
by Brian Hutchinson, The National Post, Aug 1, 2007
Vidette Lake, British Columbia (Canada) -- CENTRE OF THE UNIVERSE -- Some might find it hard to swallow, but a journey to the Centre of the Universe does not involve stepping off an airplane at Pearson International.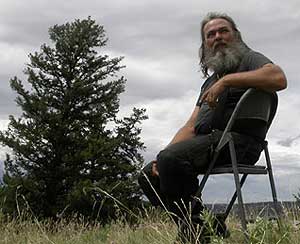 << Ray Stad is the owner of Vidette Lake Gold Mine Resort. Brian Hutchinson/National Post
The trip, as I discovered, is more arduous, the location more remote than YYZ or Bay and King. One doesn't fly to the real Centre of the Universe. One drives along a narrow road that starts west of Kamloops, in the B.C. Interior.
The road twists through a rocky gorge called Deadman Valley, which comes by its name honestly. Ancient log cabins, sagging and long abandoned, appear at almost every corner.
I'm drawn to this eerie place by stories of a secret sanctuary, identified years ago as universe central by Buddhist monks. Apparently, it's alive with spirits. When the wind blows, voices rise and swirl. An invisible choir sings.
Broken asphalt gives way to gravel, and then to hardened earth. After an hour or so of careful driving I reach road's end, at something called Vidette Lake Gold Mine Resort.
It's a rustic place that, true to its name, sits on a former mining camp, beside a small, sparkling lake. Before the miners arrived, early in the last century, it was a Hudson's Bay Company outpost, established in 1846.
I push open the heavy iron gate and proceed inside. No sign of anyone. Then a dog barks and I hear an engine's drone. A man approaches on an all-terrain vehicle. He leaps off the ma-chine and I see that he's a giant: tall, with a long, bushy beard and rat's nest hair. He wears suspenders and heavy boots. The epitome of a rugged mountain man. His name is Roy Stad and he owns the resort. He knows why I have come.
"You want to see the Centre of the Universe," he says. Mr. Stad often receives visitors searching for the spirits and ethereal sounds; some are Buddhist monks. Most, like him, like me, are not. "We get some healers, deep meditators and such," says Mr. Stad. "People from all over. I'll take you there."
"There" is practically straight up, at the top of a steep path. Heaving on a rope that's tied to the base of an ancient fir, we slowly climb to an alpine meadow that's dotted with wildflowers. Two metal chairs sit in the middle of the meadow, near some pieces of firewood assembled on the ground to form an "X." This is it: the Centre of the Universe.
A Buddhist monk from San Francisco identified the spot as such some 30 years ago, or so the story goes. Lew Woolman, the resort's original owner, woke up one cold November day to see a man in a long white robe standing at the iron gate.
"I walked up to him and the first thing he said was, 'This is the Centre of the Universe,' " Mr. Woolman told me the other day, from his home on Vancouver Island. "I said, 'Oh yeah? Well, welcome, brother'. "
The monk's name was David Wilson Lewis, dispatched from San Francisco by well-known Tibetan lama Tarthang Tulku.
"[Lewis] was assigned to find the Centre of the Universe," explained Mr. Woolman. "Tarthang pointed to a map and told him that it was up around Vidette [Lake]." Somehow, the apprentice determined the precise spot to be about 600 metres above the resort.
It is a dramatic position, overlooking three valleys, the lake, and evergreen forests. Delegations of monks from California began trekking here once every few years, holding ceremonies in the meadow. Mr. Woolman was invited to give them the land, but he declined. The visits stopped, but monks from a local monastery still drop by sometimes.
The wind whips around us, charging from all directions. The effect is stirring. Stereophonic, almost symphonic. But I don't hear choirs.
Ray Stad does not hear voices, either. He's never heard them, but since buying the property seven years ago he's been startled by sounds he compares to pipe organ music.
He sprinkles some loose tea on the ground, beside the "X." He's no wild-eyed mystic, but Mr. Stad believes in spirits, and in the energy of this place. He likes to come and sit up here. Nearby, he built a tiny cabin, where he spends some days each winter with his wife and daughter. "By December, it gets dark down below," he explains. "We come up for the sun. It's refreshing." If not enlightened, they leave feeling closer to nature and its creator. And so, today, do I.
Mr. Stad tells me about an unmarked back road. He says it should take me to a logging route, and then, eventually, to another highway. There are no signposts indicating the way out; it's a leap of faith. I take it.