Touring monks love crokinole
by LUISA D'AMATO, The Record, Aug 6, 2007
Tibetan Buddhists share culture, raise funds for monastery
Kitchener, Ontario (Canada) -- They play a mean game of crokinole, these Tibetan Buddhist monks. They also play jokes on each other. Some enjoy beef or chicken as a change from their usual vegetarian diet of vegetables and noodles. And all are quick to wash the dishes after dinner.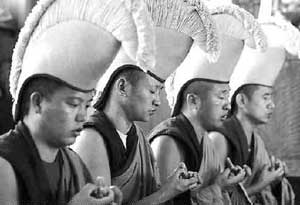 << Gyaltsen Norbar (left) and other Tibetan Buddhist monks from the Drepung Gomang monastery in India, skilled in sacred dances and traditions of Tibet, perform chants as part of an opening ceremony of the sand mandala at the Church Theatre in St. Jacobs yesterday. Work on the mandala will continue all week.
That's what their local hosts say, as eight Tibetan Buddhist monks from India began a weeklong stay in St. Jacobs sharing their art, faith and culture with anyone who drops into the Church Theatre, where they're based this week.
The visit is part of a North America-wide tour the monks are making, to share their culture, offer blessings and raise funds for their monastery.
Yesterday, the monks began making a sand mandala, an intricate, sacred design of coloured sand that is offered with prayer to "help people to receive healing," explained monk Tempa Dawa.
The sand art, also called a "medicine Buddha," is being created on a large plywood board on the floor of the building. Later this week, it will be swept up and packets of the blessed sand will be given away. The rest of the sand will be poured into the nearby Conestogo River, to heal the fish and other animals in the rivers, lakes and eventually the ocean.
Before they began their work yesterday, the saffron-robed monks chanted prayers in low, resonating tones that filled the small room and impressed about 40 audience members.
"It seems a peaceful, meditative thing," said Nicole Battista, a fourth-year University of Waterloo student.
Battista's mother and stepfather, who live in Linwood, had invited the monks to lunch the day before.
"It was really fun," Battista said. "We actually played crokinole. They loved it. They're amazing at crokinole."
Rilla Antti of Burlington has also hosted the young men. Her daughters, Laurel and Kim, are organizing the Canadian part of the tour.
"They're so loving, so caring, so calm," she said as she sat in the theatre and watched them pour tiny streams of sand into circles and patterns.
Only five of the eight are vegetarians, and the others love some beef or chicken.
They can't get it at the Drepung Gomang monastery, because the refrigeration facilities there are not reliable, so the monastery only serves vegetarian food, Antti said.
"They love spices," Antti said, laughing that her bland offerings might have been a bit of a disappointment.
"Hot sauce? What's that? I don't have any!"
She enjoys the way they tease each other, offer to cook and do the dishes, and make her feel like she's their mom.
And she knows that their gentle, playful manner belies the sad history of these people.
After China invaded Tibet in 1959, most of the temples were destroyed and the practice of Tibetan Buddhism severely repressed.
The spiritual leader of Tibetan Buddhism, His Holiness the Dalai Lama, escaped to India with just 100 monks, where he began re-establishing the monasteries.
The original Drepung Gomang monastery in Lhasa, Tibet, which had been home to 15,000 monks, was relocated in exile to south India.
It now has 1,850 monks, with novices coming each year from Tibet, Russia and Mongolia.
No one is turned away, but that means more need for cash to feed and care for the monks.
In keeping with their leader's legendary embrace of peace and patience, groups of monks tour North America in search of donations.
As they create mandalas, perform concerts and sell their crafts, they are ensuring that their culture survives outside Tibet.
When they take a broom to the sand design in St. Jacobs on Saturday and cast it into the river, it is not an act of destruction, but simply part of the Tibetan Buddhist tradition, Dawa said.
"Where we go, if people want a medicine Buddha, we can make it again," he said.
SHARING THEIR CULTURE
Events at the Church Theatre in St. Jacobs, all free and open to the public:
- Today through Friday, 1 to 9 p.m.: Observe the creating of the sand mandala.
- Saturday, 10 a.m.: Dismantling ceremony; Church Theatre to Conestogo River.
Donations
www.gomangcanada.org or Canadian Friends of Drepung Gomang, 2365 Cotswold Cres., Burlington, L7P 4M2.