Dalai Lama to visit Calgary in 2009
Tibetan Community of Alberta, August 30, 2007
Calgary, Alberta (Canada) -- The University of Calgary has announced that HH The Dalai Lama will make a visit to Calgary in 2009.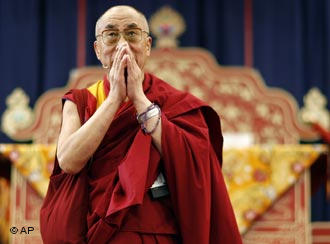 << The Dalai Lama will visit the University of Calgary in 2009
The Dalai Lama will hold a public lecture as part of a three-day visit to Calgary in September, 2009. Dates are being finalized. Other activities include a symposium with undergraduate students on 'Educating the Heart,' interaction with corporate community, a panel discussion on social leadership and meetings with local Buddhist teachers.
Details will be made available as times and venues are confirmed. The Dalai was last in Calgary in 1980.
"The Dalai Lama is recognized as one of the world's most influential and inspirational voices for peace and education. His presence in Calgary reinforces the commitment of our University, and our city, to the principles of international engagement and social responsibility," said Harvey Weingarten, president and vice-chancellor of the University of Calgary.
"The Tibetan Community of Alberta is thrilled to hear the announcement of His Holiness the Dalai Lama's visit. Calgary will once again receive blessings from the Dalai Lama and the community is looking forward to organizing Public Teaching to the local Buddhist communities and, of course, his special guidance and advice to Tibetans, Mongolians and other Himalayan communities," said Tashi Phuntsok, president of the Tibetan Community of Alberta.
Calgary has been home to a small Tibetan community for the last 37 years. "The Dalai Lama's return visit to Calgary after 29 years will be much anticipated by Calgarians," added Nima Dorjee, one of the founding members of the Canada-Tibet Committee. "As a Tibetan, I am excited for the opportunity to welcome His Holiness to the University of Calgary and the City of Calgary."
More information on the Dalai Lama can be found at: http://www.dalailama.com
The Dalai Lama was born on July 6, 1935, to a farming family, in a small hamlet located in Taktser, Amdo, northeastern Tibet. At the age of two, the child, who was named Lhamo Dhondup at that time, was recognized as the reincarnation of the 13th Dalai Lama, Thubten Gyatso. The Dalai Lamas are believed to be manifestations of Avalokiteshvara or Chenrezig, the Bodhisattva of Compassion and patron saint of Tibet. Bodhisattvas are enlightened beings who have postponed their own nirvana and chosen to take rebirth in order to serve humanity.
An advocate of non-violence, the Dalai Lama received the Nobel Peace Prize in 1989, acknowledging his work in global environmental problems. He has travelled to more than 62 countries and is the recipient of 84 awards, honorary doctorates, prizes, etc., in recognition of his message of peace, non-violence, inter-religious understanding, universal responsibility and compassion. He describes himself as "a simple Buddhist monk."
For more information, please contact Colleen Turner, Director, Communications (403) 220-2920 or cell (403) 650-1153 or Tashi Phuntsok, President of the Tibetan Community of Alberta, (403) 615-5530