Affection, compassion vital for inner peace — Dalai Lama
By COLIN PERKEL The Canadian Press, Nov 1, 2007
TORONTO, Canada -- World peace depends on the inner peace of individuals, which in turn comes from compassion and affection for others, the Dalai Lama told thousands of people in a public address Wednesday.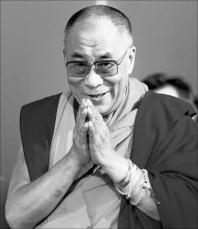 << The Dalai Lama greets members of the audience in Etobicoke, Ont., on Wednesday. (Adrian Wyld / CP)
His voice echoing through the cavernous Rogers Centre, formerly known as the SkyDome, the exiled Tibetan spiritual leader said a lack of compassion and affection breeds a destructive distrust that leads to discord.
Constant anger, jealousy, agitation and fear are damaging to one's health and are a form of "suicide," the Dalai Lama said.
During his speech, called "The Art of Happiness," the 72-year-old Dalai Lama stressed the interconnectedness of all people and societies that make up the global village.
"Whether you love others or not, your existence depends on them — that's a reality," he said.
"Many problems, essentially man-made problems . . . are created due to the demarcation of 'we' and 'they.' On that basis, the whole concept of war happens."
While his visit to Canada has created political ripples in China, which regards him as a dangerous separatist, Wednesday's public lecture struck a far different note.
Taking off his shoes, donning a cap against the spotlights and settling cross-legged on a couch, the Dalai Lama spoke for about an hour, regularly breaking into his trademark chuckles.
"Affection and friendship is the source of security, the source of happiness," he said.
He made a special point of praising the nurturing role of mothers as critical to the well-being of all individuals, without which people become distrustful and anti-social.
The crowd welcomed the Dalai Lama by waving small Canadian and Tibetan flags, and greeted his message warmly.
They applauded enthusiastically when he announced at the start of his lecture that it was his second talk at the stadium, but his first as an honorary Canadian — a title bestowed last year on the Nobel Peace Prize laureate.
Organizers of the event said they had sold 15,000 tickets to the event for between $30 and $50, but there appeared to be far fewer people in attendance.
Earlier in the day, large crowds lined up in the pre-dawn darkness in west-end Toronto in hopes of seeing the Dalai Lama, who came to bless the Tibetan Canadian Cultural Centre. He also held a private audience there with members of the city's Tibetan community.
"For us Tibetans, and his holiness coming here, it's a great, great thing," said Phuntso Tsering, 41, who took three days off work to attend the Dalai Lama's events in Toronto.
"It's a really awesome feeling."
China, however has been less impressed with the visit. Beijing was furious after Prime Minister Stephen Harper received the Dalai Lama on Parliament Hill.
It accused Canada of gross interference in its domestic affairs and warned that bilateral relations could be damaged.
On Tuesday, the spiritual leader said he understands why China is so suspicious of him, pointing out that while China might control the people of Tibet at gunpoint, it will never control their minds.
Also Wednesday, an activist organization said Chinese police had fired on a group of 30 Tibetans — including Buddhist monks, nuns and two children — trying to cross a mountain pass to Nepal two weeks ago, but no one was hurt.