'Unique' tour brings Buddhist relics to town
by ALAN HUSTAK, The Gazette, Nov 19, 2007
Crystal-Like beads salvaged in Tibet. Display's final spot: Giant statue in India
Rosemont, Canada -- Rare Buddhist relics from the cremated remains of Siddhartha Gautama - known to the world as Buddha - and from the ashes of several of his disciples arrive in Montreal Friday on the latest stop of their world tour.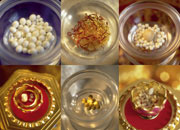 Known as ringsel, the relics are crystal-like beads that followers believe are found in the ashes of only the most enlightened teachers who die without fear.
They will be on display at the Huyen Khong Temple in Rosemont from 8 a.m. to 8. p.m. Friday, Saturday and Sunday.
Email to a friendEmail to a friendPrinter friendlyPrinter friendly
When the tour is over, the pearl-size relics will be placed in the world's largest statue of Buddha being built in Kushinagar, India.
The $250-million shrine, known as the Maitreya project, will include a teaching hospital, museum, audio-visual centre and library. The relics are on a 150-city tour to promote love and kindness throughout the world and at the same time help raise money for the project.
"This is a once-in-a-lifetime opportunity," said Susan Buscemi, the tour's Montreal co-ordinator.
"A tour like this is unique, unprecedented. One of the most wonderful things is that while the relics are here, they can be placed on the heads of visitors, and there will be the opportunity to receive personal blessings.
''Once they are enshrined in the 152-metre-high gold statue in India, they will never be as accessible as they will be in Montreal," she said.
In addition to the ringsel, which were salvaged from statues destroyed by the communists in Tibet, artifacts from the present Dalai Lama's collection will be on display.
"It's a non-sectarian event," Buscemi said.
"It is very spiritual and open to everyone, no matter their religious affiliation."
The Buddhist relics will be on display at Huyen Khong Temple, 1292-1298 Rosemont Blvd., from 8 a.m. to 8 p.m. Friday, Saturday and Sunday. Admission is free, but donations will be accepted.
For more information, visit www.maitreyaproject.org.