Buddhist monks pay a visit
Coast Reporter, September 11, 2009
From Sept. 13 to 19, four Tibetan Buddhist monks will make a traditional sacred Sand Mandala on the Sunshine Coast
Sechelt, BC (Canada) -- From Sept. 13 to 19, four Tibetan Buddhist monks will make a traditional sacred sand mandala on the Sunshine Coast.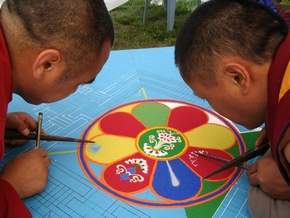 << From Sept. 13 to 19, four Tibetan Buddhist monks will make a traditional sacred Sand Mandala on the Sunshine Coast.
The monks are from Gaden Jangste monastery in a Tibetan refugee area in southern India. They will be doing a cross-Canada tour this summer and fall to raise money for their monastery.
There are hundreds of sand mandala designs — this one will be the mandala of Chenrezig, the Buddha of Compassion. One of its purposes is to confer blessings and healing to those who view it and to the whole world.
A mandala is painstakingly made by placing grains of coloured sand in intricate traditional patterns, usually covering a circular area three to five feet in diameter. Depending on the size of the mandala, it takes four monks four to seven days to complete.
The monks begin with a ceremony of chants, prayers and music to consecrate the site where the mandala will be built. They will also do prayers and chants each morning before beginning work on the mandala. When it is completed there is another ceremony in which the sand is swept up into a pile to celebrate the impermanence of physical creations. Some of the sand is given to the people present at the ceremony and the rest is ceremonially taken to a nearby river where its blessings are dispersed to the ocean and to all the world.
The opening ceremony will take place at St. John's United Church at 5805 Davis Bay Rd. in Davis on Sunday, Sept. 13, at 2 p.m.
Viewing times of the monks completing their work will be from Sept. 14 until the closing ceremony on Sept. 19. Viewing times are from 9 a.m. to 5 p.m. with morning prayers at 9 a.m. The closing ceremony starts at 2 p.m. on Saturday, Sept. 19, when the public can join the monks to walk from the United Church to Chapman Creek for the sand dispersal. Entrance is by donation, suggested $5 to $10 for a single visit.
On Sunday, Sept. 20, the four Tibetan monks will be performing an evening of sacred music, dance, blessings and ritual debate at the Gibsons Heritage Playhouse from 7:30 to 9 p.m. Tickets are $20 for adults and $15 for seniors and students. Tickets are available at the door only starting at 6:45 p.m. that evening.
For more information on any of these events, to volunteer or become a sponsor, to arrange for a blessing or to take part in the empowerment ceremony, see www.spiritdance.net/centre or contact Janet at centre@spiritdance.net or 604-885-3602.