This Kingston Buddhist suggests giving Peace a Chance
By Mark Bergin, Kingston EMC, March 3, 2011
Kingston, Ontario (Canada) -- The Kuluta Buddhist Centre at 182 Wellington Street is a centre for peaceful spiritual exploration. It offers Kingstonians a setting for quiet reflection and spiritual growth.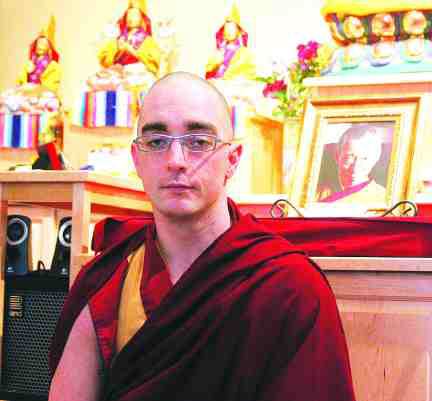 << The Kululta Buddhist Centre's resident teacher, Kelsang Donsang, is an ordained Buddhist monk.
Mark Bergin, Kingston EMC
The Kuluta Centre opened in 1998 and moved to its current Wellington Street location about four years ago.
"It's a place open to everyone to practise meditation, find inner peace and make life meaningful," said Kelsang Donsang, the resident teacher at the centre. "It's not about becoming a Buddhist."
Donsang explained that anyone who visits can take what they need and leave aside whatever doesn't fit. People don't have to change their own beliefs to benefit from Buddhism's practises. He said part of the centre's mandate is to help people find inner peace.
From the narrow perspective of the western world, it's hard to imagine Buddhism as a traditional religion.
"There's no proselytizing," said Donsang. He added, "This is not a theistic religion."
But there is equality.
"There is no male, there is no female in enlightenment. These are mere illusions."
Donsang explained that Buddha Shakyamuni, known as the historical Buddha, the founder of Buddhism, is whom the public associates with the spiritual discipline. But there have been many Buddhas, enlightened ones.
The teachings are practical in orientation and at the same time challenge our ordinary ways of thinking. Buddha presented a complete path to enlightenment. Practitiners can listen to and practise the teachings on whatever level is comfortable.
Buddhism sounds simple: practise the teachings of Buddha. These teachings are also called Dharma, which means protection. By practising these teachings, living beings will find themselves protected from suffering.
It's the application that gets tricky. Life's distractions get in the way. Our mind tricks us.
Donsang is the only ordained monk in Kingston. He was born in Montreal of non-practising Roman Catholic parents.
"My parents were always spiritual and virtuous," he said. "Eventually it made sense to look for happiness in a spiritual way."
He became intrigued when he heard the Buddhist statement, "Happiness is in your heart." He started to practise Buddhism on his own, initially following a Zen tradition. He became part of a centre in Montreal, where he ended up teaching Buddhism. In 2007 he was ordained as a monk, a process in which a practitioner symbolically changes their appearance, name and mind, and takes vows.
"There are hundreds of vows, condensed to ten," said Donsang. The vows include abandoning acts like killing, stealing, lying and cheating. They also involve reducing the desire for worldly pleasures and meaningless activities.
"No one is expected to take vows," said Donsang. "The vows are a gift, not a burden."
Donsang explained that there is no one way to practise Buddhism. There are more than 40 traditions, each with their own ways and methods.
"Buddha taught for 45 years," said Donsang. "Buddha taught differently to different people, according to personal needs. No tradition belittles others. We are all following Buddha according to what is best for us."
Some traditions follow early teachings of Buddha, others adhere to later teachings, some are faithful to all the teachings.
In addition to its Kingston location, the Kuluta Buddhist Centre holds classes in Belleville, Brockville and Napanee. Many of the centre's events are open to the public. You can find out about programs at www.kuluta.org.
The centre's philosophy is that to achieve world peace, we first have to develop inner peace.
At the Wellington Street location on Sunday mornings meditations and chanted prayers for world peace are held at 10 a.m.
For a feeling of calmness in the middle of the day, informal guided meditations (free) are held there during lunchtime on Mondays and Wednesdays at 12:15 p.m.
Becoming a Better Human Being classes ($10 fee) are held on Tuesdays at 7 p.m. These classes introduce basic Buddhist meditation, psychology, and philosophy.
Donsang is also a Buddhist chaplain and takes his work into local prisons several days a week.
Sitting on the floor of the Kuluta Buddhist Centre, drinking tea with Kelsang Donsang, I was, I suppose, involved in a form of Buddhist practice. Peaceful. No distractions. Or, what distractions that existed, were kept outside of self. The way of the Buddha. The way of the Buddhist.
For more information: www.kuluta.org