A room you can really call your own
By Maryann Hammers, Special to The LA Times, April 27, 2005
'Zen rooms,' 'whiskey libraries' and bathroom spas. Now we're turning underused space into customized personal retreats.
Los Angeles, USA -- Cindy Rakowitz wanted a room of her own. A Buddhist, the public relations consultant craved a place to meditate, chant in private and host Buddhist gatherings. But the suburban home that she shares with her non- Buddhist family offered no such space.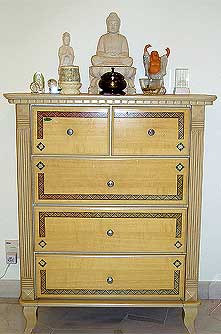 So she and her husband knocked down a wall and enclosed a corner of their patio to create Cindy's "Zen room."
The newly fashioned nook, which overlooks a small courtyard with a trickling fountain and collection of Buddha statues, has silk wall hangings, a low carved table from India, bright satin floor pillows and an octagon-shaped altar. As a finishing touch, Rakowitz plans to purchase Asian panel doors, a traditional Japanese futon, and pink and purple hanging lanterns.
"When the room is complete, it will feel like another world. It will lift people's spirits ? whether they believe in the Lotus Prayer or not," says Rakowitz, who lives in Agoura Hills. "I don't consider myself an 'airy fairy,' but I've felt much more optimistic since I've had my Zen room."
Rakowitz is on the cusp of a growing trend in home design ? specialized rooms that sync with ultra-specific personal needs and hobbies. People are finding ways to make their homes fit their lives, rather than the other way around.
"People are learning how to make the most out of their residences with multi-functioning spaces and specialty areas," says Dawn Ritchie, co-author of "The Emotional House," a book that aims to provide home-design solutions for specific lifestyle needs. "Everyone is stressed ? and needs a place to escape and regroup."
Decorators and builders say that the trend toward setting up in-home retreats can be largely traced to the Sept. 11 attacks. Seeking solace and security at home, many people began to identify little-used spaces in their homes and attempt to put them to better use.
Specialty rooms are suddenly showing up at every price point and in nearly every size in new homes and remodels, says Heather McCune, editorial director of a group of magazines published by Reed Business Information that cover the home-construction industry.
"Buyers today want to bring the resort-retreat to their homes, where they can unwind from the pressures of the day," says McCune. "Yoga rooms, massage spaces and bathrooms as sanctuaries are especially hot."
Among other sought-after specialized spaces, McCune says, are wine cellars and tasting rooms; kitchen command centers with computer, desk and storage; and foyers separate from the main entrance with storage areas for each family member.
"People want to enjoy the time they spend at home, so if they have unused space, they look for new things to do with it," says Diann Valentine, a Pasadena interior designer who created a "relaxation room" in the Tarzana home of actress- comedian Mo'Nique, who stars in the UPN comedy "The Parkers."
Valentine turned one of Mo'Nique's six bedrooms into a lavender-hued sanctuary with a 4-foot fountain, mosaic tiled walls, a silk chaise lounge, ottomans and a chandelier with beads and crystals. "There is no television," says Valentine, whose goal was to create a serene and feminine space.
In-home relaxation havens ? places to read, pray or ponder ? are in such demand that two years ago Toll Brothers, a luxury home-building company based in Horsham, Pa., began offering optional "meditation room" upgrade packages, complete with yoga spaces and refreshment stands in its Palm Springs, Phoenix and Las Vegas housing developments.
"Those areas are rich in spas, and our research revealed that buyers wanted to bring that lifestyle to their homes," says Bill Davis, who decorated the model homes. He furnished the prototype meditation room with massage tables, aromatherapy candles and Balinese furniture.
"It's all very understated," Davis says. "It feels like a spa ? a place to get away from the day's rigors."
Eve Michaels turned a spare bedroom into a meditation room in her Beverly Hills home. She painted the walls and ceiling red and gold tones, then filled the space with Indonesian and Asian furnishings, carved wall hangings, a velvet sofa, and a statue of the Chinese goddess of mercy Quan Yen. The fragrance of incense wafts through the air and candles flicker.
"The room has become my place of tranquillity. I love to meditate there," says Michaels, an image consultant. "People say it's their favorite room in our home because the energy in there feels so good."
A "feel-good room" was precisely what the Tuberts sought when they tore out a bathtub and converted the space into a spa room in their Burbank home.
"We are shower people, so that tub just sat," says Lori Tubert, a writer-director-producer whose husband, Marcelo, is an actor. The new in-home spa has an elegant aromatherapy steam room with leaded, double-paned glass walls, a marble bench, mosaic tile and soft ambient lighting.
"Our new spa room is a private magical world ? visually beautiful and functionally soothing," Tubert says.
Santa Monica designer Susan Angard, who worked with the Tuberts, has created a walk-in wine cellar meant to look like a cave and turned home libraries into showcases for art, glass and fountain pen collections. She's also set up home gyms and transformed a garage into a ballroom.
For Pauline and Dennis Parry, who live in mid-Wilshire, the unused space was a small room off the kitchen that might have been a breakfast nook when the house was built in the 1920s.
"We wanted the room to have a purpose," says Pauline, who owns a special events company.
Dennis is a whiskey aficionado, and the couple frequently entertains. So inspiration hit: Why not use the room to store bottles of whiskey?
Dennis, a custom woodworker, installed floor-to-ceiling shelves ? and their "whiskey library" was born. The door leading to the dining room was removed and the opening became an arch. Leather bucket seats surround a round marble table on a rustic iron pedestal.
"It definitely looks like a library ? but instead of books, hundreds of whiskey bottles line the walls," says Pauline. "People come in for a cocktail before moving into the dining room ? they just love it."
Even cartoonist Scott Adams, creator of the comic-strip engineer Dilbert, has entered the custom room act. With the input of readers, Adams has designed a virtual "ultimate house" with a "quiet room" with such spaces as a greenhouse, craft room, Christmas storage room, basketball and golf practice area ? even a cat room for supplies and litter with a floor that easily hoses clean. (Take a "tour" of the house at http://www.dilbert.com/comics/dilbert/duh .)
What's missing from Dilbert's home are foyers and formal rooms ? areas that Adams calls "wasted museum spaces."
On the website, Adams says he was trying to imagine what kind of house a guy like Dilbert might want. The answer: a practical place with rooms that address such real-life issues as exercise and pets.
The idea, Adams writes, is that "It should make you scratch your head and say, 'Why don't I have that in my house?' "