Love without action is just a four letter word
by Suphani Thawatchai, The Buddhist Channel, Jan 2, 2020
Bangkok, Thailand
-- Tam Suphachai owns a money exchange counter at the corner of a heavily trafficked walkway in a Bangkok mall. His business is good but not brisk unless the high travel season kicks on. On the last Thursday of every month in the last year or so, a lady would drop by his counter to send money back to her hometown in Udon Thani province. The amount she sends is always the same, 20,000 baht.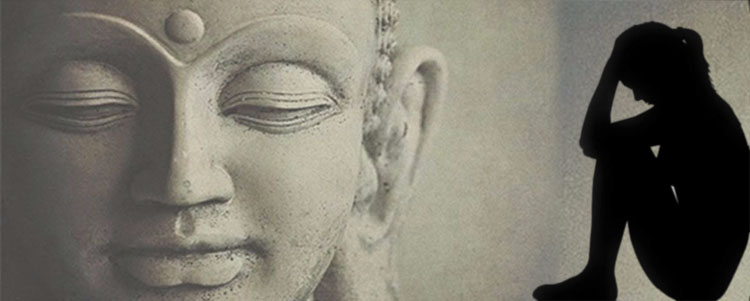 One Thursday she came by Tam's counter as usual. This time she was only sending 15,000 baht. "Not the usual?", Tam asked.

"No, this time business not good," she replied as she heaved a big sigh.
Tam guessed she worked in one of the massage parlor nearby, one which he got correct. "It's not enough", she says. And then she broke: "It is never enough."
Soon the whine turned to sobs and the tears started flowing.
"I have to get my son into a private boarding school. If not he will get involved with bad hats because no one is watching him at home. And I need to send money to my sister who is not working because she needs to take care of her adopted parents. I always have nothing left for myself," the last part of the sentence trailing off as her sobs got heavier.
As Tam was keying in the details of the transaction into his computer, he could not help but feel helpless at her plight.
"Be strong sister. Have faith in loving kindness. You have a good heart. Good will come soon" was all the reply that Tam could muster.

As Tam passed the transfer slip to her, she placed her palm in a "wai" and apologised for causing inconvenience to him due to her emotional breakdown.

A month passed and the lady came back again. This time she requested the regular transfer for 20,000 baht.
"Everything OK?" Tam asked. "Same same," she smiles back.
After completing the procedural steps of accepting her transfer, Tam passed her the payment slip. She thanked Tam quickly and with folded palms bid him farewell.
Five minutes later, she came back to the counter. "There must be some mistake," she said. "The transfer slip here says 200,000 baht. I just gave you 20,000."
"No mistake," Tam said. "Please use the money and make sure your family is safe."

And for the second time, she broke down. This time with higher intensity. She covered her face with her hands and sobbed uncontrollably. Between sobs she tried to muster a thank you. Kap... (sob)... koon... (sob,sob,sob).... ka.... (sob, sob).

"It's OK. No worries. Do what you can and make sure everyone is well and safe," Tam consoles her.
On the last Thursday of the next month, the lady didn't turn up at Tam's counter. Instead he received a friend's request on his shop's Facebook page. Now he knows her name - Simwattana or simply Sim.

On her FB, she posted some images of a small shop. It was taken in Udon Thani. And then some pictures of food: Somtam. Skewered chicken. Lemongrass tea. The posting was followed by tens of likes, with many messages of congratulations. On that FB post, the following text accompanied the pictures: "The best somtam / skewered chicken in Udon Thani!"

Soon after another posting came up, featuring a small group of Japanese tourists sampling her food. And then another of a "farang" (caucasian) couple showing thumbs up.
And then a notification appeared on Tam's messenger app. "Free to chat?" It was from Sim.
And this was when Tam fully knew who Sim was.

She came from a poor family from Khon Kaen. Her father passed away about a year ago while her mother died while giving birth to her sister. Because of the stigma, her sister was given away for adoption. It was only 2 years ago that she got reacquainted with her sister.

As for herself, she dropped out of high school after getting pregnant with her son at the age of 17. While the boy married her, she hardly got to see her husband as he had to continue his schooling.

A year after marriage, he was conscripted for military training for 3 years and lost touch with her for a while. To stay afloat financially, she took care of her son till she he was 3 years old, when she decided to leave him with the in-laws so that she could find work in Bangkok.
There she worked on what ever she can to earn money: cleaner, waitress, factory worker. But the money was too little and the hours long. And so she decided to become a masseuse.

During the last two years, domestic troubles began to test her resolve. First her unemployed husband whom she was supporting financially started an affair and she left him. Then her sister's adopted parents began asking her for more and more money for medical expenses. And finally, her neglected son began skipping school and hanging out with uncomely friends.
She had no home, little money and had to practically bear the family's burden alone.
---
"Metta in the truest sense readies our mind to face the suffering of the sufferer with equanimity. Should we choose to act upon our inner urge to give help, the compassion which then arises will enable us to help without being emotionally entangled."
---
In desperation, she took offers from slimy clients to provide sexual services. It was something she truly despised and tried spending days in the temple meditating to "cleanse" her sins.
Her last line in her message was, "I don't know when and how I can repay you. You have no idea how many lives you have saved. Thank you."
When Tam made the money transfer into Sim's account, he did so out of gut instinct. Deep inside, he knew this was something he had to do. Besides, the amount were extra savings which he was not using anyway.
Underlining his gut feeling was the sense of "metta" (loving kindness) he felt for Sim. Her troubled face and the sobs belie someone who had given everything she has, but life being unfair it continues to throw "shit" at her.

Being human, there are only certain limits which she could bear. Anything more will break her down. And when she goes, her family go down as well.
Buddhist teaching emphasizes non violent actions (ahimsa) and to develop an appreciation of cause and effects (karma). If we look at the face of suffering and just radiate "metta", this passive action serves no real purpose other than to elicit pity.

Metta in the truest sense readies our mind to face the suffering of the sufferer with equanimity. Should we choose to act upon our inner urge to give help, the compassion which then arises will enable us to help without being emotionally entangled.
Tam didn't just saved Sim. He gave Sim an opportunity to start anew, and the freedom to face life without needing to submit to dark forces of adversity. From there, there is renewed hope for Sim's sister, her adopted parents and her son.

Indeed Tam helped more than one individual. The karmic link traverses far and deep. You don't know where the consequences of your given assistance lands on.

Tam may or may not know it, but in the Buddhist meaning of love, it goes beyond the four letter word.
-----------------------------------------
Do a

Dharma Dana

(Gift of Dharma)
If you like this article please help viral it.
Please copy this article link:

http://buddhistchannel.tv/index.php?id=7,13284,0,0,1,0
and paste it onto your preferred social media.


May your good merit bring peace and happiness to all beings!

YOUR SUPPORT IS APPRECIATED

Administering a news agency is time and money consuming. What more a Buddhist related news outfit (we know - we have done this since 2001!)

If you wish to support our 20/20 Vision Realignment, please consider making a donation.

Our monthly maitenance cost is USD 250 (or USD 3000 per annum). We are grateful for any amount that you give.