Sampling ?slow food' at a nearby temple
By Park Soo-mee, JoongAng Daily, July 22, 2005
Seoul, South Korea -- Venerable Jeongmun, a senior monk at Sudosa temple in Pyeongtaek, Gyeonggi province, came to a spiritual awakening in a kitchen. It was when he visited Tongdosa temple in Yangsan, South Gyeongsang province, years ago and saw a young monk who spent hours washing rice in his kitchen.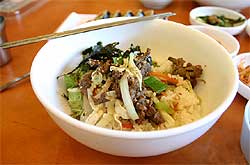 "It was as if he were trying to cleanse the dirt from his mind," he says. "Every move of his hands soaking in water seemed so sacred."
Since that incident, when monks first arrive at Sudosa, Venerable Jeongmun, an expert on temple food, offers them an opportunity to work in the kitchen so they learn the philosophy of their ascetic practice through daily rituals.
For the first day or two, he sees the frustrated young monks constantly checking their watches by the fire to prevent the rice from burning. Then after a week he sees them slowly becoming attuned to the aroma and sounds of rice cooking in an iron cauldron.
"After about a month, your body finds a way," he says. "You could just stand in front of the cauldron, and without checking, you could even tell the thickness of the crust on the bottom of the pot."
To most people, the idea of "slow food" might seem an elabrate philosophy to seek the purity of an intellectual lifestyle. That might well have been the case in the original social movement founded by Carlo Petrini, an Italian journalist who waged a war on the homogenization of food around the world in the mid-1980s triggered by the opening of Italy's first McDonald's in Rome. His mandate then was to save regional foods and small producers from extinction and to revive people's sense of taste, as a way of "slowing down."
When the idea was first adopted in Korea about two years ago, it was under the huge commercial slogan of a "well-being" lifestyle, which basically meant the rapid growth of yoga centers, organic food shops and apartments that come with indoor gardens or elaborate facilities supposedly aimed at creating a more eco-friendly space.
The word quickly proved itself for the most part to be another name for a marketing scheme for urban middle class Koreans. While well-being items were selling out in the domestic market, the lives of average citizens essentially remained unchanged when it came to issues of public welfare, aside from the construction of a few parks in Seoul that the city carried out as part of its ambitious, yet inconsistent, environmental campaigns.
Sudosa is one of the 10 places designated by Gyeonggi province earlier this year to provide "slow food tours" for average citizens. The places offering the tours, which were originally introduced to increase the consumption of regional produce, are mostly in villages in the province that produce "slow food" items such as handmade tofu, soybeans, kimchi, barley rice cakes and other traditional regional food.
Sudosa is the only temple that offers programs using food ingredients from outside the region. Others, like Yaksagol in Pochon, a village producing medicinal herbs, offer slow food ingredients like kimchi and barbecued pork seasoned with herbs. Pine Nut Village in Gapyeong offers special delicacies using locally produced pine nuts, while Tongilchon in Paju offers hands-on programs for visitors to make tofu with fresh or fermented soybeans.
Aside from a three-day temple stay tour, which includes cooking programs for visitors to make vegetarian meals typically eaten at Korean temples, Sudosa also offers weekly cooking lessons led by Venerable Jeongmun.
"The basic idea of temple food is unexaggerated, primitive countryside dishes," he says. "But it takes some time to get used to the peculiar scent of some of the herbs."
Food, and the rituals surrounding food, have always been a critical aspect of Buddhist practice. The way the monks handle their meals often involves strict, formal procedures. The portions served in each bowl are about two-thirds the amount one finds in city restaurants. After each meal the monks rinse their dishes with water, then drink it to make sure that even small grains of rice aren't wasted. The entire process disciplines people about the value of food, sustenance and self-control.
Temple food usually consists of vegetarian side dishes. With the exception of a few temples for female monks, most Buddhist temples in Korea still ban the use of certain spices like garlic, green onions and scallions, which are reputed to increase male stamina, which might distract the monks from meditating. Instead, these are replaced with seasonings that are much milder, such as powdered seaweed or daikon.
These days, temple food has become much more specialized. Tongdosa is famous for rice steamed with shiitake mushrooms; Sangwonsa near Mount Odae is known for a variety of seasoned vegetables; and the specialty of Sinreuksa in Yeoju is rice steamed with lotus roots.
The kitchen shelves at Sudosa are an eye-opener for those who haven't been exposed to the world of vegetarian cooking. They are stacked with hundreds of elaborate small jars filled with finely crushed vegetables and herbs such as cinnamon, pine needles, buckwheat, pine pollen, cactus roots, beans and probably about 10 different kinds of mushrooms, which are often used in soups as a substitute for meat or fish.
The temple sells jars of pickled vegetable roots and dried seaweed with scorched rice to visitors as a snack. As a main course, though, tofu still is the most prominent, served raw, fried, steamed or baked.
The highlight of my visit to Sudosa, where the cooking class was held among a group of housewives, was a small bowl of lotus porridge served with bits of dried jujube on top. The lotus porridge, also known as "yumijuk," is a dish of milk, sesame seeds and black beans that the Buddha consumed after six years of intensive meditation.
The temple sells a bag of crushed lotus seeds mixed with sweet rice, handy for people to serve as a quick breakfast by cooking it in a few cups of water over medium heat for about 15 minutes. But the taste is divine, with a soft texture similar to pine nut porridge.
The recipes taught at Sudosa are quite elaborate, arranged by staff members trained at the Korean Traditional Temple Food Institute, which has produced many respected chefs of vegetarian cooking. But the temple itself may be disappointing to those contemplating a visit.
Historically, the site is known as the place where a veteran monk, Wonhyo, came to a spiritual awakening 1,000 years ago after he drank water from a well where human skeletons were kept. But the temple, which is small and was rebuilt in the 1960s, is actually a few hundred meters away from the site of the original temple, which the Korean military acquired after the Korean War.
The old temple, which is considered by Buddhist scholars to be one of the eight most important Korean temples, was built during the Silla Dynasty, during the reign of King Munseong. Nevertheless, for those who seek a quiet rest, spending a weekend afternoon meditating over a bowl of lotus porridge could never hurt.
Getting there
To reach Sudosa, take subway line No. 1 to Pyeongtaek station and then a city bus to Anjung Terminal. From there, take any buses heading to Wonjeong 7-ri. If you ask, the driver will drop you off at the temple. For those taking the cooking class, there is a shuttle bus from the temple to Pyeongtaek station. For information call 031-682-3169.
To visit other villages offering slow food tours in Gyeonggi province, check out the official Web site, www.slowfoodvil.com.
Pine Nut Village in Gapyeong is about 45 kilometers (28 miles) from Seoul, surrounded by a forest of pine nut trees. The programs include a tour of pine nut processing factories and cooking classes using organic pine nuts. There are separate sessions on mushroom picking and sampling organic potatoes and yams steamed in a traditional pot. The program for a day trip costs 27,000 won from May to August. For information call 031-585-6969.
Borigogae Village in Yangpyeong features barley, a classic Korean food ingredient. It offers samples of food made out of barley, such as rice cakes, snacks and barley rice steamed with beans and broiled pumpkin. There is a ravine nearby, a nice place to explore in the summer, with lodging that accommodates up to 100 people. For information, call 017 703-4070.
Located near the Demilitarized Zone, Tongilchon in Paju produces fresh soybeans in an unpolluted environment. The main dishes produced here include tofu, which is served in the program. There are over 700 vessels containing fermented soybeans, and visitors to the village can sample soybean paste on the spot as well as participate in cooking classes to crush fresh beans to make cold noodles. For information, call 031-953-760.