Meditation goes to work
by H.J. Cummins, Star Tribune, January 19, 2006
When conflict and stress hit you at work, try looking East to calm yourself and find better ways to cope.
Minneapolis (USA) -- Robert Zeglovitch, an employment attorney at Leonard, Street and Deinard in Minneapolis, has been practicing Zen meditation for more than 10 years. When he offered to teach a Buddhism-based but secular form of meditation called "mindfulness" within the law firm in 2004, the demand was so great that he expanded from one to three classes.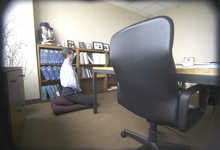 << Minneapolis attorney Robert Zeglovitch used a cushion on the floor of his law office for lunchtime meditation. He is a Zen practitioner but also teaches a nonreligious form of stress-reduction meditation to his colleagues. Tom Sweeney, Star Tribune
He describes mindfulness as paying attention in a particular way: on purpose, in each moment, and without judgment.
"It is simply experiencing what is happening in the present moment, as much as possible, without the usual mental commentary that we make: 'That's good,' 'That's bad,' 'I wish I could change this,' or 'I want more of that,' " Zeglovitch said. "It sounds easy, but it requires daily practice."
Zeglovitch is among a growing number of workers in the U.S. who are employing Eastern philosophies and practices to handle the stresses of daily work and living.
Increasingly, employers are making such alternative treatments available to their workers. A survey by the Society for Human Resource Management in Alexandria, Va., found that 33 percent now make acupuncture available, up from 18 percent five years ago, for example.
As more U.S. workers incorporate new ideas into their life and work, their employers are increasingly open to them, too, said Jen Jorgensen, an association spokesperson.
There is also a proliferation of organizations across the country that now sell Eastern-based leadership, ethics and stress-reduction programs, including the Center for Contemplative Mind in Society, Spirit in Business and Awake at Work.
A common premise of U.S. workplaces is that we leave our personal issues behind when we clock in or log on at work.
A professional demeanor is probably a good thing. But our emotions do trail behind us into work -- maybe more noticeable in others, such as the chronically irritable boss or anxious co-worker.
Mindfulness meditation trains people to penetrate the clutter of their minds and surroundings, Zeglovitch said, and it's just as applicable in a courtroom as a Tibetan monastery.
"Certainly in a courtroom, you need to be adept at picking up clues, both verbal and nonverbal, so you can react to what's happening," he said.
Zeglovitch believes the benefits are so important that he is quitting his law firm at the end of this month to start a solo legal practice and to expand his meditation teaching to other businesses.
Sherry Tousley finds Eastern philosophies particularly applicable in her specialty: intercultural training for global businesses.
Tousley, now an assistant business professor at the College of St. Catherine in St. Paul, counts Medtronic, 3M, Pillsbury and Ecolab among her clients for international and intercultural consulting. She also teaches regularly in Taiwan.
"When I work with companies I don't talk about Buddhism or Taoism," Tousley said. "I just try to model the concepts."
Those concepts include a sense of calm, an openness to whatever develops, respect and compassion, she said.
Successful intercultural relationships involve "looking for the frame of reference of the other culture ... understanding the other side ... and being willing to go the extra distance to find common ground," Tousley said.
Sarah Bell Haberman said her lessons in meditation help her cope in the fast-paced, stressful world of public relations.
"With the intensity of our work, for me it means being aware of your breathing, and kind of centering yourself before phone calls or meetings," said Haberman, who owns Haberman & Associates with her husband and fellow meditator, Fred. A current agency project is the U.S. Pond Hockey Championship planned this weekend on Lake Calhoun in Minneapolis.
And with the complications of the recent warm spell, Sarah Haberman said, "we've been taking deep, deep breaths every day."
Science is increasingly able to explain why those deep breaths make the Habermans feel better.
Meditators' brains show more bulk in the area that handles attention and memory, according to one study Zeglovitch cited. Another study showed more electrical activity in the area of the brain that tamps down anxiety and upset. That study also showed that among two groups in one workplace, the one that had taken a meditation course actually built more antibodies after taking flu shots.
Meditation has another appeal to Zeglovitch: Every moment is a fresh start.
"There's no succeeding or failing because each moment is a new opportunity," he said.