Buddhist monks help addicts chuck the habit
BY JOE DZIEMIANOWICZ, New York Daily News, July 26 2007
Bangkok, Thailand -- Before addicts can recover, they need to admit they have a problem. After being booked for cocaine possession and alleged drunken driving, Lindsay Lohan fired off an e-mail declaring "I am innocent ..."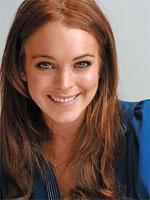 << Actress Lindsay Lohan could use a stint at the Thamkrabok monastery in Lop Buri, Thailand - "the toughest and most successful drug detox program in the world."
Right, Linds - although the car-and-coke routine does redefine "driven snow."
Denial this deep cries out for extreme rehab. Lohan's recent stint at Promises, the treatment facility in Malibu that caters to a celebrity clientele, was a bigger waste of time and money than her flop flick "Just My Luck."
Pampering didn't work. So how about puking? The struggling starlet might be wise to consider kicking her bad habits - boozing, driving drunk, alleged cocaine use - in a place that has been described as "the toughest and most successful drug detox program in the world."
She'll need her passport to check into the Thamkrabok monastery in Lop Buri, Thailand, 80 miles north of Bangkok.
The program - which is free, unlike the $40,000 or so for a 30-day stay at Promises - was created by the Thai government in 1959 in response to the skyrocketing rise in opium addicts. A reported 70% of users who complete the treatment regimen at Thamkrabok never do drugs again.
The spartan conditions make the prison in "Midnight Express" look like a spa - steel bunks, mosquito nets, squat toilets, concrete amenities and just one meal a day.
The day starts at 5 a.m., with chores like sweeping the compound. You do that again in the afternoon, in between meditation sessions. Lights out at 8 p.m.
But the most grueling part of Thamkrabok's cure is taking a daily dose of medicine that supposedly detoxes the system - and induces projectile vomiting.
The herbal elixir, said to resemble crude oil and taste much worse, is made of seeds, leaves and bits of bark.
British rocker Pete Doherty of Babyshambles, whose heroin addiction has been well-documented, walked out of Thamkrabok after two days.
Completing the program, according to one of the Buddhist monks in charge, gives "a great sense of achievement. And this treatment is something [you] never want to go through again."