Learn not to fear death
By CARTER HAYDU, Edmonton Sun, August 26, 2007
Two-day End of Life Care Conference provided discussion platform
Edmonton, Canada -- Death has been a central topic in the life of Edmonton's Bernice Teasdale for almost a decade.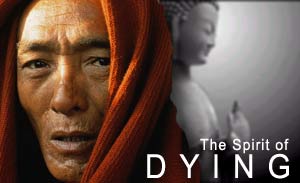 In 1999, doctors diagnosed the retired schoolteacher, who already suffered from a lung disorder at the time, with lupus,idiopathic thrombocytopenia purpura and myelodysplastic syndrome.
Doctors told her she would be dead within five years. "I had a tremendous fear of dying," Teasdale said.
Then she met Dr. Steven Aung, a local physician who practices integrated medicine. It was while receiving acupuncture treatment from Aung that Teasdale learned of the Buddhist approach to death and how not to be afraid.
"He taught me that life was precious and to look at the big picture and live on a daily basis."
Rather than simply dreading her own demise, Teasdale decided to study how other people prepare for death.
Since then, she has outlived her original prognosis, which she credits partially to the spiritual guidance of her acupuncturist.
Aung, who is also president of the International Buddhist Friends Association, shared his beliefs to a crowd of religious leaders and health-care professionals, as well as those dying or interested in death during the Interfaith End of Life Care Conference on the grounds outside the Chin Yin Buddhist Temple, Friday and yesterday.
Representatives from 15 spiritual traditions, including Muslims, Christians, Hindus and First Nations, spoke at the north Edmonton conference.
Aung said it's important for people who are dying, or who work with the dying, to learn how best to prepare for life's end.
From listening to other speakers at the conference, Aung said he learned all religions have a similar message - that death isn't a bad thing.
Although fear often clouds people's perceptions, Aung said dying, in reality, is a blessing. He said it can be like a well-earned end to a life well-lived. "It's like you studied and passed the exam."
In the Buddhist tradition of reincarnation, Aung said people are reborn into another life after death, correcting the wrongs from previous lives until their Karma is clean.
Aung said Buddhism, as with any faith represented at the conference, teaches the importance of preparing for a peaceful end to life.
He said part of the role of any religious leader, in any faith, is to assure the dying that a good place awaits them.
Dealing with death appropriately is an important goal for anyone, Aung said, because eventually everyone dies.
From the conference, Teasdale said she learned the importance of encouraging the dying to discuss their feelings on death.
In recent months, Teasdale, 60, has found renewed interest in the topic of death. She was diagnosed with lymphoma in January.
Over the past eight years, fortunately, Teasdale said she has learned to face mortality with more courage and spiritual grounding. However, she's still uncertain what to expect after death.
"I can't decide whether there's a rebirth or a heaven."