Calm amid the storm for carers
y Brigid Delaney, The Sydney Morning Herald, June 14, 2008
Sue Pieters-Hawke says carers must take time out to enjoy friends, interests and faith. Buddhism is her key
Sydney, Australia -- How do you live well with uncertainty? How do you remain settled in the midst of turbulence? And what keeps you strong when you are your mother's primary carer?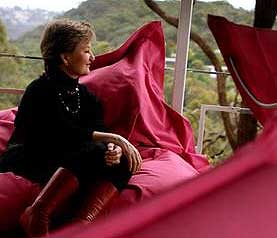 << Sue Pieters-Hawke on her Sydney balcony … "I love a quiet life and the atmosphere here is very calming."
Photo: Ben Rushton
For 51-year-old Sue Pieters-Hawke, the key to calm can be found in meditation and through the teachings of Buddhism.
Pieters-Hawke is a carer's advocate, recently appointed chairwoman of the National Advisory Committee on Dementia for the Minister for Ageing, and is primary carer to her mother Hazel, who has Alzheimer's disease. Pieters-Hawke wrote of the illness, diagnosed in 2001, and her mother's life in the best-selling book Hazel's Journey.
She believes carers benefit from "a sense of humour [which] nearly always helps. It's black humour, self-deprecatory, sense of humour being able to vent. It lifts endorphins and reduces stress."
There was a recent Australian study conducted that showed "carers as a cohort have the lowest well-being and are at high risk of disease and depression". To combat this "people who are carers need things that stand outside it; faith, their own identity and activities. You can, for example, lose yourself in young motherhood but hopefully there's the compensatory joy of a baby but if you have been caring for someone in decline then it's very natural and easy to be disheartened by that."
So what can carers do to develop separate interests? "Time out, time out, time out … is really important. Take it physically, and generate it mentally and emotionally. Friends, interests and faith are important." Pieters-Hawke's interests include cooking, listening to music and gardening ("watching things grow and die and flower. I stand at the window and stare at it and enjoy it") but faith "of one kind or another" has been a constant in her life.
It has given her meaning and sustenance and "the capacity to live well with uncertainty," she says, before quoting Helen Keller. "'Human beings seek safety and certainty, and there is no such thing.' People try and get it by placing values on material goods and hedonism. It doesn't just fall out of the sky." Instead Buddhism has helped her navigate through much of life's uncertainty.
"I call myself a "small B" Buddhist - I find fundamental guidance and encouragement in that and my friends in that network."
She is careful when talking about her Buddhism. "It's nuanced," she says, and use of certain words such as "faith" or "belief" sends her into shrieks of "no, no! That's not what I mean!" We settle on using the word "practice" to describe her private passion, steering away from the more loaded terms of "faith" or "religion".
"My practise is varied - from quiet sitting where sometimes you'll do very little to one favourite practise that I've recorded - it's really loud chanting. I call it 'wah wah' - for me it has incredible chanting and energy. It has incredible resonance for me."
The "wah wah" takes place on the balcony of her house in Sydney's northern suburbs, where we sit in the late afternoon sun.
Except for the occasional peaked roof, the view is mostly of bush running down to a nature reserve.
"I love a quiet life and the atmosphere here is very calming. The teachings understand that it's hard to quieten the mind. Here I can settle into the bird noises and silence."
As if on cue the birds begin to squawk, the sky suddenly darkens, large shadows move across the bush and a heavy storm moves in. Meditation, plus gardening, music and cooking are things "I find helps settle the mind. But it's horses for courses, I know people who get that out of bushwalking, painting and building things."
She says "settled people tend both to be kinder and more able to get things done with less fuss".
Belief in something larger than oneself has long been a feature of the Hawke family.
Pieters-Hawke was 26 when her father Bob became prime minister. "I grew up in the twin church of the Labour Party and the trade union movement," she says. Before these secular religions took root, there was traditional religion.
"Both my parents grew up in the faith of the Congregational Church and my grandfather was a minister. When I asked 'what is Congregationalism?' he said 'in the Congregational Church you love God by loving your fellow man'. It's very humanist and it's very focused on helping people rather than on judging them. Both mum and dad came out of that tradition."
Bob and Hazel met "in a church in Perth. Mum was the organist." By the time Sue, one of three children, was born, "they were agnostic but they were both imbued with those values in a secular sense". On a trip to India when he saw overpopulation, poverty and religion yet enormous suffering, "Dad had the classic crisis of faith". Theirs was "an agnostic house [but] it wasn't that God didn't figure, values figured".
These values shaped her parents' public lives: community life or "shared-life" was particularly important to Hazel, says Pieters-Hawke. "I don't share the fashionable cynicism about politics - it's dangerous and sad. Most people who go into public life do so because of a set of values and an interest in contributing to the community."
From this "values-based upbringing" Pieters-Hawke became interested in Buddhism. "In my mid-teens, mum, who saw I was having a tough time, took me to someone to help teach me how to meditate." Then "in my mid-20s after I left Melbourne and law school I was uncertain about the direction - I learned a lot about what I didn't want - a useful set of things to learn, but it's not what you're meant to be doing". There followed a period of "fascinating experiences"and a trip to the Kimberleys. Pieters-Hawke toyed with working in a roadhouse, and driving semi-trailers. Instead she wound up "serendipitously" at the East West Centre in Haymarket where she took cooking classes.
"It was one of the early centres that did eastern medicine in Haymarket," she says. "There was a form of yoga I started doing and it was a revelation. The master had studied Zen meditation - he had a network of centres in Japan. Funding for the truck stop fell through and in the meantime I wandered out of a weariness with pure Western thinking. I wasn't sufficiently satisfied by Western rationalism. I wasn't satisfied by the answers it provided in the big question of how to live."
In Buddhism she found "tools and approaches" that "meshed well with values I already had".
"I by no means discount logic and rationalism. They are also fabulous tools. Manifestly the world isn't purely logical and rational: what other pathways are there to live a better life? It was the same with my parents and their values. How do you create a sense of meaning and contribution in how the world works?"
Getting involved in the East West Centre opened up a different world. "I was making new friends - it was like moving to a new city. I had found a new way - and I had walked away from the old way."
She met her husband at a Buddhist centre in Japan. They had two children and were based in Sydney where she established a clinic and a school with two Chinese qigong masters.
That some people see Buddhist teachings as part of the New Age movement irritates her. "If there's one thing that annoys me it's the discrediting of knowledge that's been refined over the years. It obscures that fact. How we integrate body, mind and spirit has to mean something more than a festival at Darling Harbour."
Instead the practice of it can keep the ego in check and be an anchor through some of life's testing experiences, including the ageing process.
"I was at a dinner party with some friends after I released my book. They were so uncomfortable with the subject of growing old. In our age denying, death-denying youth-based culture, we live like we're not going to get old."
And not going to die? . "I don't think I've looked death fully in the face - I've skirted around it. Some things I've done a bit more is bringing myself a bit closer to it. Mum has something that's going to kill her sooner rather than later and that's getting a bit closer.
"I think it's treated as morbid, and that's sad - and the costs are high. Getting old in some respects sucks - it's confronting."
The key is to "chip away, developing wisdom and resilience", says Pieters- Hawke, as well as living with uncertainty. "It's a work in progress. Life has risk and difficulty to it. How do you learn to be happy and effective in a world where there is so much uncertainty and grief?"
One suspects the answers to that unfurl during those still mornings on the balcony with the echoes of wah-wah chant hanging in the air.