Spiritual healing
By CATHERINE SIOW, The Star, July 22, 2008
A conservationist highlights ancient wisdom as inspiration for people to better protect the Earth today
Kuala Lumpur, Malaysia -- US-born, Christian-baptised world citizen Nancy Lee Nash has worked and lived in more than 40 countries in as many years, but there are two constants she confesses to: first, with her middle name she seemed destined to live in a Chinese community (Hong Kong has been her home base of choice for the past four decades), and second, her life-long love of all animals.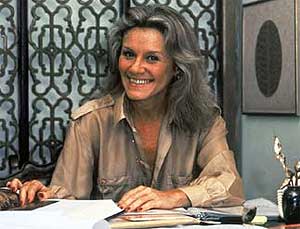 << Nancy Nash
Affection for animals – "from what some call creepy-crawlies such as sharks and snakes to universally admired whales, elephants and tigers" – became a passion for protection.
"And that, as I learned, had to embrace the entire natural environment. Every life form is linked to others in ways we are still learning about. Lose one to extinction and down the line many more, linked in the beautiful, intricate, still mysterious web, also vanish," she says.
Speaking recently in Kuala Lumpur at Buddhist Gem Fellowship's seminar on Buddhism and the Environment, Nash proved she could be both serious and playful.
Her solution for recycling paper? "Mine is to use paper in the litter box for three cats (two rescued and one Christmas gift) ... face up for any politician I don't particularly like."
The event also reunited Nash with Ven Dr Dhammananda from Thailand, a teacher she credits along with the Dalai Lama for the success of the Buddhist Perception of Nature project. For initiating the project in 1985, Nash won the Rolex Award for Enterprise in 1987 and was named to the United Nations Environment Programme (UNEP)'s Global 500 Roll of Honour in 1993.
Asked, why, as a Christian, she would design a Buddhist project, Nash says that she had found the elemental importance of religion in conservation projects lacking, and so, "after some study of major religions, I found Buddhism the easiest, because of the core teachings – compassion for all sentient beings."
Early impressions
This vivacious 65-year-old left formal schooling in the United States at 16 with a driver's licence she used immediately to explore.
"First," she says, "to support civil rights movements to break the colour barrier in the deep south of the US – yes, to my horror, it still existed then."
A year each in Europe ("mainly for literature, especially my hero Goethe") and Japan ("for the art aesthetic") always found work to pay the way. In Tokyo, she wrote and illustrated a children's book about – what else – beloved pets.
"With no formal training, I landed PR and media jobs," she says of a trajectory that led to becoming Hilton International's first area director of public relations ("wonderful work with the best-ever boss and many colleagues I still know as dear friends").
In the mid-1960s, a giant panda portrait – by Sir Peter Scott, a founder of the World Wildlife Fund (WWF) who later became a close friend and mentor – caught Nash's eye. It was the symbol of the organisation, which she joined and supported wholeheartedly. Today, she looks back and calls that contact "karma".
Twenty years later, after ca-reers in hotels, tourism and journalism, she became known among Chinese working to pro-tect the iconic animal as "Xiong-mao Xiaojie" or Miss Panda. Even the official People's Daily newspaper referred to her by that name when she visited then Peking.
But a vibrant compass for conservation, she says, "only came into sharp focus in 1979, in Switzerland, when I first interviewed the Dalai Lama. I found a way to reach people's hearts that table-thumping activists missed. That was with the Dalai Lama's idea of universal responsibility; interdependency – nation to nation, human to human, and human to other forms of life."
Inspiration came from all directions. On one occasion, Thailand's – and Asia's – father of wildlife conservation Dr Boonsong Lekagul (1907-1992) took Nash to Wat Phai Lom, a Buddhist temple on the outskirts of Bangkok.
"I was struck by the sight of hundreds of rare open-billed storks. Without the temple's protection, the birds would likely have become extinct, leaving the elimination of their favourite prey, rice-eating snails, to destructive pesticides," she says.
With more research came further admiration for other efforts around the world.
"Catholic priests, notably Thomas Berry and Matthew Fox, were doing amazing work focused on spirituality and environment. Employing Muslim ethics for environmental protection, His Majesty Sultan Qaboos of Oman, Egyptians including Drs Mustafa Tolba and Osama el-Kholy, and Prof Mohd Kassas linked the best of modern science strongly with powerful, strict teachings," Nash says.
Support groups
Nash's project has found support from many prestigious parties. They include the New York Zoological Society, WWF in Hong Kong, India and the United States, the Sacharuna Foundation, the UNEP, the Alliance of Religions and Conservation, international hotels and airlines, artist and writer Fleur Cowles, and naturalists Dr George Schaller and Sir David Attenborough.
Since its inception, the project's materials have reached groups well beyond Asian, religious and conventional cultural fields. In the United States, they have been studied in universities and used in the activities of Earth Ethics Research Group in Florida. In the Philippines, they have been incorporated into nature awareness work by various associations, many of which are Roman Catholic. They have also found their way to the hills of Nepal and to the town of Assisi in Italy.
A key element of the project was a minimal amount of centralised management.
"From the beginning, the project was meant to put itself out of business – to be a catalyst, not a monument – to help stimulate activities to be run by others. That has happened, I am glad to say. People who visit me are often surprised to discover that the project's headquarters is me behind stacks and stacks of research materials!" says Nash.
To criticisms that her efforts ignore "practical" business concerns, Nash responds: "What could be more practical than protecting Earth's biodiversity and health, and promoting human happiness?
"Presidents, prime ministers and captains of industry – at least the enlightened ones – know the world is running out of resources at an alarming rate. How do they, or any of us, wish to be remembered? What do we want to leave for future generations?
"It is clear now: destroy out of ignorance, greed, laziness or deliberation ... or protect, however difficult the work. Is there really a choice?"