Soul Searching and Seeing the Light
by Bruce Emond, The Jakarta Post, May 3, 2009
Borobudur, Central Java -- I confess that my meditation track record is not good. In fact, it's a feeble and embarrassing one, limited to a single experience during which I glanced over at a friend a few minutes into the class and promptly started giggling.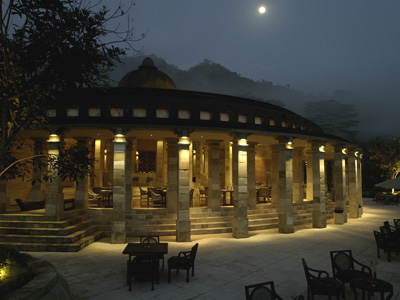 As our teacher continued with her earnest instructions, I was letting out strangled yips in one of those involuntary laughing fits that becomes painful because no conjuring up of horrific images can do anything to stop it. Needless to say, I did not return for another attempt at channeling my inner yogi.
So I was in two minds about taking up an invitation for the inaugural Amanjiwo meditation retreat, which is being held in conjunction with Waisak, the Buddhist Day of Enlightenment, until May 23. I could set aside only two days for the trip and I was not entirely convinced that a brief immersion in Buddhist ideals of mindfulness and contemplation would be the short, sharp shock necessary to get my temperamental self back on keel.
In the plus column was that there are few more spiritually enriching spots to practice meditation than the area of the plush Central Java resort - its name means "peaceful soul" - cradled amid hills and volcanoes and lying in the shadow of the hallowed Buddhist temple of Borobudur.
Another attraction was the involvement of Craig Warren Smith, who I had met and interviewed in Jakarta. A noted Buddhist life coach who knows the Dalai Lama and Richard Gere, he has practiced Shambhala (Tibetan) Buddhism since the 1970s (he also is a former Harvard professor of science and technology and has been a pioneer in bridging the digital divide for developing nations, especially Indonesia).
With gleaming, gold-flecked hazel eyes that display his keen intellect and interest in others, the 62-year-old American came of age at Stanford University during the turbulent 1960s, questioning many of the values he had grown up with.
He has taught meditation for the past 34 years, and believes that it is an invaluable resource that should be available to all people, regardless of their religion or spiritual values.
"Unlike other faiths, Buddhism focuses primarily on the act of meditation in the process of transformation," Smith told me during our first meeting in March. "It's the basic act of stopping the flow of your mind, focusing on your breath and managing the tension. It's about gaining the tool to focus your mind without waiting for external circumstances to change, and learning to shape your mind. That's the fundamental value that Buddhism has to offer."
So I accepted the invitation, and set off to search for some serene highness in the hills of Java.
Day One
After a mid-morning flight to Yogyakarta, I was ferried to the Amanjiwo property, the driver stopping at the top of the descending driveway to the hotel to show the spectacular view of mist-shrouded Borobudur in the distance. I checked into my villa - tastefully and classically appointed, in the Aman hotels tradition - and touched base over lunch with Smith and Amanjiwo General Manager Sean Flakelar.
Flakelar, an Australian who has lived in Indonesia for many years, says he is a bit of everything when it comes to his beliefs. It's that openness and acceptance that make him an ideal spokesman for the benefits of the program.
"It adds to the guest experience, a deeper layer," Flakelar says of the meditation retreat. "We've concentrated on the spiritual experience before but never through meditation. We're breaking into new ground with this. It would be crazy for us not to provide this with Borobudur nearby, and Amanjiwo is all about spirituality. That's what we want to show."
Flakelar, who also plans to have Smith give meditation classes to Amanjiwo employees to incorporate into their daily lives, believes that stressed world and corporate leaders would do themselves some good by learning meditation principles.
"They have to cope with so much stress that they could become better leaders and better people *through meditation*. That is a whole new area."
With my first meditation class only set to begin at 7 a.m. the next day, Flakelar suggested we visited the local Buddhist monastery adjacent to the Mendut temple for early evening chanting.
Drawing novices from around the country, the monastery is an impressive property, with well-maintained grounds and an interesting collection of Buddhist artefacts, including an unusual statue of an emaciated Buddha during a period of abstinence. Three monks wandered out to perform the rhythmic chanting for 45 minutes.
We walked the short distance to the temple and climbed the stairs to come face to face with the towering statue of a young, handsome seated Buddha. With its sprinkled flower petals, candles and mats, courtesy of the hotel, it was deemed to be the perfect setting for an impromptu 10-minute meditation.
Perfect for them, perhaps: Without the basic understanding of how to still my restless mind, I sat behind the two others, distracted by thoughts of a darting bat that I felt at any moment was going to divebomb my head and wondering if my companions were aware that I was faking it behind them.
Day Two
My first 7 a.m. class was to be my moment of reckoning: Would I finally be able to let myself go from the clutter of my thoughts and experience meditation during a 30-minute session?
A few minutes late, I grabbed a seat in the back of the hotel's Art Room along with three other male participants (the two women in the class sat cross-legged on cushions) as a stone statue of Buddha watched over us.
The soft-spoken Smith instructed us to focus on our breathing - to "feel" and pay attention to this most basic of bodily functions. He told us to keep our eyes open at a 45 degree angle and take in our surroundings, being aware without being distracted by them.
My initial feelings of anxiety gave way to a pleasant sensation of allowing things to come and go, whether it was the random creaking in the room, a door slammed outside or the breathing of my neighbor. There is a truly amazing cacophony in the sounds of silence.
I was to experience two "lightbulb" moments in the class. The first was of the Oprah kind, when Smith informed us that it was to be expected that our thoughts would inevitably wander during the session, and that we should accept that and stick with the meditation principles. It freed me to get on with the process of meditating without holding to impossible expectations of being "perfect'.
The second was decidedly unexpected. A row of lightbulbs blew out at the front of the room about halfway through the session. There was a brief collective gasp in the room, I was aware that my neighbor flinched and I noticed a couple of minutes later out of the corner of my eye that Smith discreetly turned around to see what had happened. But it was a temporary disruption.
When Smith rang the bell to signal the end of the 30-minute session, I could not believe it had passed so quickly. Yes, there had been distractions and my thoughts had raced back and forth at times. But I also knew that I had been able to meditate. And I did feel calmer and more settled throughout the rest of the day.
Final Day
In my second and final meditation session, Smith instructed the group to feel how sections of our skin felt against our body, and even how the cloth of our pants brushed against our thighs. I realized that in my constant whirl of activity, I had never stopped to consider these simple sensations.
My chest heaved as the session began, wondering if I would be able to get through another 30 minutes or, defeated, have to slink out of the room before it ended. Although the first few moments were difficult as my mind entertained scattered thoughts, I remembered Smith's advice to always return to the principles of breathing. I did and, quicker than I expected, the session was over.
So was my brief stay. As I checked out, I felt that I understood a little better what is meant by being mindful and aware of the process of living from my few days at soul-soothing Amanjiwo. Then again, most of us don't have the blissful luxury of living at a sedate high-end resort. The big test would come soon enough when I returned to the real world of Jakarta, to see if I would be able to use what I learned to take a time-out from stressful situations.
It came on a soggy Monday afternoon with traffic backed up on the tollroad from the airport. In a situation that has been known to get an ugly rise out of me in the past, I decided this time to sit back, focus on my breathing and let go of something that I couldn't change.
I went with the flow, even if the flow of traffic was not going anywhere.
For more information on meditation at the resort, visit:
www.amanresorts.com