Buddha's Noble Eightfold Path Now on Your iPhone
The Buddhist Channel, May 8, 2009
San Diego, CA (USA) -- Buddha meets Benjamin Franklin in a unique fusion app that incorporates Franklin's time-honored self-improvement system with Buddha's Noble Eightfold Path – with an iPhone twist.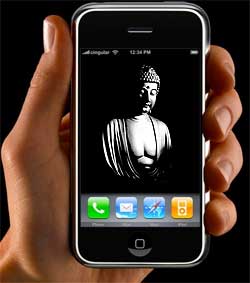 Equilibrium Enterprises has unveiled its latest iPhone application, Noble Paths, a unique fusion app that incorporates Franklin's time-honored self-improvement system of daily tracking to enhance awareness and personal growth with the wisdom of Buddha's Noble Eightfold Path.
Noble Paths applies the same practical, methodical approach that Ben used to train his mind to refine his 13 Virtues through the exclusive focus upon one virtue for one week.
With Noble Paths, the very same technique is successfully applied to incorporate each of the Buddhist Noble Eightfold Path tenets into your life, resulting in a gradual path toward self-improvement as you track your progress daily as you live in accordance with each "Right" Path:
• Right View
• Right Intention
• Right Speech
• Right Action
• Right Livelihood
• Right Effort
• Right Mindfulness
• Right Concentration
Shape Your Destiny
One can only truly learn via experience and new opportunities. It is up to us to recognize these lessons and learn for ourselves. Noble Paths the app is a tool that can willfully assist each of us in our quest for such presence. Noble Paths helps us to recognize that it is ultimately each of these moments that shape our destiny.
This powerful app is a welcome addition for anyone interested in personal development. It is for those who seek to refine their presence and enhance their character. With Noble Paths 1.0, you can enhance your daily experiences through practical and experiential mindfulness when focusing on one of the Noble Paths. (Not sure which Path to focus on? Let the Universe decide for you with the unique "Select Random" feature.)
About Noble Paths
Noble Paths for the iPhone is available now at the App Store (www.apple.com/iphone/appstore) for $2.99. Coming soon: Noble Paths for Android and Noble Paths for BlackBerry devices.