Deception – a contemplative Buddhist perspective
by Sal Barba, Ph.D., The Mukilteo Beacon, 11 November 2009
Mukilteo, Washington (USA) -- In my work as a contemplative psychotherapist and specialist in the field of neurotherapy, I am often supporting someone to gently explore their self-deception.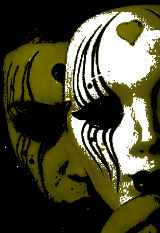 Deception arises from subtle self-serving lies we tell ourselves or others to the most corrupt schemes of deception based upon greed and power.
How do we use the power we are given by those who trust us? How do we exercise the balance between daily ethics and our morality? How do we teach our children, our families and our schools, to respect each other, to listen, and think through the ethical dilemmas we encounter?
These and many more questions that address these issues cannot possibly be answered in one or two articles. However, we can generate a rudimentary direction that potentially might motivate us to begin our quest to explore them.
Volition is the driving motivation behind our thinking, speech and behavior. Volition determines everything. Volition provides us the energetic qualities to achieve our goals; to impede social injustice, to disarm nations and corporate corruption; to achieve national independence, to overthrow dictatorships even to the level of sacrificing one's life.
Desire provides us the energy and strength to pursue these activities. Furthermore, there are large groups who desire to protect our environment, and those who wish to get off the economic escalator of consumption, and live simple and reclusive lives.
The power of volition can potentially shift into the opposite polarity: a destructive direction. The drive to accumulate wealth, influence, and recognition, the desire to be admired and envied by others, the desire to drive fancy automobiles, live in luxurious houses, and finally those who exclusively live for revenge, who desire to attack, destroy, punish and cause others to suffer in exchange for thinking that they made them suffer.
This quality of motivation is the foundation of what causes people to live through numerous forms of negative activities.
The Buddha illustrates the tragic power of our volition by telling a story about a young man who is being dragged toward a pit of fire by two strong men. The man wants to live; he's being dragged against his will. However, he isn't as strong as the two men, who intend to throw him into the pit of fire. Although he doesn't wish to die, he is incapable of resisting.
Buddha then asks, "Who are these two strong men who try to bring us to the realm of hell?" The answer of course is our volition, our desire to run after what we believe to be happiness, namely the objects of our craving. Although our pursuits do not have to create disruptive suffering, more often then not suffering and discontent is the result of this quality of volition.
Prior to Siddhartha's transformation of his life into the historical Buddha, he underwent six years of hardship before becoming fully emancipated. He observed great suffering in his family, his country and society. He left his father's kingdom, his family, not by a desire to be irresponsible, but from a deeper motivation fostered by love. This deeper motivation provided him the courage and strength to encounter numerous hardships.
Challenged by Mara, the great tempter, Buddha was teased with various promises of wealth, women and kingdoms. These temptations couldn't withstand Buddha's original motivation to become enlightened.
The volition that Buddha developed is referred to as Bodhichitta-the mind of love and understanding. If we do not understand ourselves by becoming psychologically literate, and if we do not understand others, we leave ourselves potentially vulnerable to self deception and destruction. However, vowing to practice Bodhichitta doesn't make us invulnerable to self-serving deception and arrogance.
All of us have misperceptions at times. We obtain something that we think will make us happy, but then we continue to crave or we become greedy and suffer. In his book, The Art of Power, Thich Nhat Hanh describes the Buddha's image of the bait and hook to illustrate how we mistaken our craving and desire for noble intentions.
"You see the bait and think that it will give you a lot of pleasure, a lot of happiness. But when you bite it, the hook gets you…
These days people use lures, artificial bait, when they go fishing. The bait is not a real insect anymore but is made of plastic. It's very appealing. When the fish sees the bait, he bites the lure, because he doesn't know there's a hook inside. When the fish bites, he gets hooked and is pulled out of the water."
Like the fish, we get hooked! We are tempted by whatever it is that is appealing to us, we want it, so we bite it, even though we know that it will get us, i.e. fame, sex, power and wealth (the four kinds of bait that come with hooks).
If we are motivated by any of these desires, we are destined to suffer. When we become indulgent we can put ourselves at risk for self-destruction, destruction to our families, companies, environment and society.
Let us consider this timely topic on a gut level as we explore them more deeply together in part two. May your Thanksgiving be wakeful and peaceful.